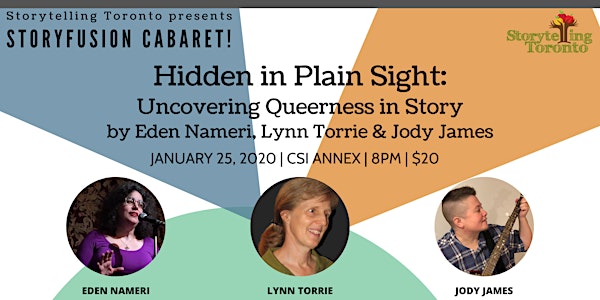 Hidden in Plain Sight by Eden Nameri, Lynn Torrie & Jody James
Lynn Torrie, Eden Nameri and Jody James break the silence around the LGBTQ world by unearthing its presence in traditional tales.
When and where
Location
CSI Annex 720 Bathurst Street Toronto, ON M5S 2R4 Canada
Refund Policy
Contact the organizer to request a refund.
About this event
Lynn Torrie, Eden Nameri and Jody James break the silence around the LGBTQ world by unearthing its presence in traditional tales. You may know these stories, but you have never heard them like this!
A traditional European folk tale of a young girl's coming of age becomes the story of her coming out. The Biblical tales of Naomi and Ruth and of David and Jonathan portray a devotion deeper than friendship. A story of the Scottish sea tells of family alienation. An Albanian tale and a Greek myth illustrate that gender is not set in stone. Storytellers Eden Nameri and Lynn Torrie reveal how they unearthed these stories, why they are so scarce, and what makes them queer.
Eden Nameri's renditions of Bible stories and other classic tales incorporate a mixture of traditional and original interpretation, as well as plenty of personal perspective. She uncovers hidden aspects such as queerness and the perspectives of women. Eden studied storytelling in New York with the late Diane Wolkstein. She tells regularly at 1001 Friday Nights and has performed at the Toronto Storytelling Festival.
Lynn Torrie is a busy member of the York Storytelling Guild and a regular host of Storytelling Toronto's StoryTent, where she indulges her passion for traditional folk tales. Her original adaptations have been told at the Toronto Storytelling Festival, the Ottawa Signature Series and Guelph's Tea 'n Tales. When not telling stories herself, she teaches workshops in storytelling and coaches emerging tellers.
Jody James (they/them) is a Trans/non-binary storyteller who has been telling folk & fairy tales, and singing ballads for over 20 years. With banjo in hand, they are excited to meld music with story as part of Hidden In Plain Sight.
________________________________________________________________________________________________
StoryFusion Cabaret! is Storytelling Toronto's annual concert series. We showcas some of the best talent in the city and cover all genres of storytelling (traditional, original, true personal, spoken word) as well as storytelling through music.
Storytelling Toronto is an organization that has continued to teach, celebrate, and explore the art and tradition of oral storytelling.
Over the years (since 1979) many hundreds of people have taken workshops at Storytelling Toronto, and many thousands of have come to the annual Toronto Storytelling Festival to enjoy stories told by local, national, and international storytellers. From experienced, seasoned elders to young tellers experimenting with the nature of spoken narrative, Storytelling Toronto is a creative centre for story-lovers who share a passion for and a vision of storytelling as an transformative art in contemporary life.
Storytelling Toronto continues to run the annual festival and courses for adults. It also produces a weekly StoryTent at The Stop Farmer's Market at Artscape Wychwood Barns, concert series StoryFusion Cabaret!, a resource library, and regular e-newsletters for a community that includes well over a thousand storytellers, story-listeners, teachers, librarians, theatre artists, writers, parents, and others.