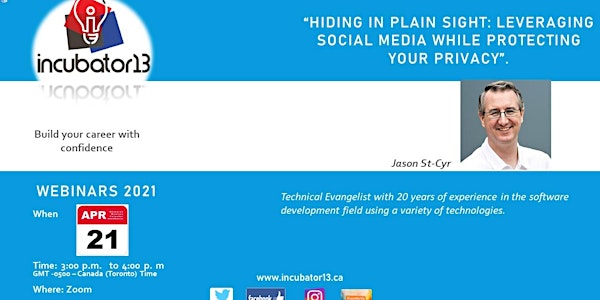 Hiding in Plain Sight: Leveraging Social Media While Protecting Your Privac
Leveraging Social Media While Protecting Your Privacy
About this event
Jason St- Cyr is a Technical Evangelist with 20 years of experience in the software development field using a variety of technologies. His primary focuses are in DevRel, DevOps, Sitecore, solution architecture, and product marketing. Having spent his career delivering digital solutions with a focus on quality assurance, deployment processes, and DevOps tooling, Jason now brings his expertise to Sitecore as the manager for the global team of technical evangelists in Sitecore's Technical Marketing team.
Today, we all try to make use of social media to promote our businesses, find a job and grow our network. If you want to learn how to use these amazing digital tools in safe and effectively manner please JOIN us to learn from Jason's expertise on how leverage social media, make your business and professional profile more visible at the same time that you protect your privacy and make the most of your online presence.
We want you to join us now. We are a friendly community of youth helping other youth to learn new skills to build their career with confidence!