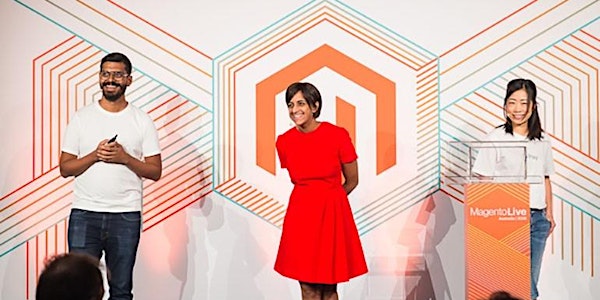 Hold Your Own Magento Speaker Diversity Workshop
A live, online training to learn how to hold your own Magento Speaker Diversity Workshop for your Magento community
About this event
A 3-hour live online training to learn how to hold your own Magento Speaker Diversity Workshop for your Magento community.
Have you ever had trouble getting speakers from marginalized and underrepresented groups to speak at your Magento events?
We will teach you how to run the 4-5 -hour workshop that has been proven to increase the number of speaker applications from people from under-represented groups.
When you facilitate it for people from under-represented groups in your community:
You will help them bust through personal obstacles to speaking, such as impostor syndrome;
You will be helping them find a topic;
You will help them create a title, pitch, bio, and outline;
You will help them to become a better speaker;
You will be giving them a chance to practice public speaking (optional);
You will be helping them build confidence and feel motivated to start public speaking!
We are offering a Train the Trainers online workshop on how to run the Magento Speaker Diversity Workshop at your local events. This will allow meetups and conferences to offer the workshop all around the world!
This workshop includes the following:
A 3-hour live online training
Doing a few of the workshop exercises together
A script for you to follow to run a Magento Speaker Diversity Workshop 
Pre-recorded videos demonstrating how a workshop is run
The Magento Community Team has partnered with Jill Binder on this effort, as she successfully pioneered this approach within the WordPress community. By both offering direct speaker training workshops herself and teaching communities how to run these workshops, she's been able to make a huge difference in the WordPress community since she began this outreach in 2018. The workshop has been run by 20+ WordPress meetup groups in 9 countries!
"All of the communities that held this workshop experienced a real change in the speaker roster for their annual conferences; many of their WordCamps went from having 10% women speakers to having 50% or more women speakers in less than a year. In 2017, Seattle had 60% women speakers and in 2018, Vancouver had 63%."
- "Want to See a More Diverse WordPress Contributor Community? So Do We.", Automattic blog post
Please try to arrive 10 minutes early so that we can start on time.
Questions And Answers
Q: "I really want to take it but I can't that day!"
A: It's recommended to take it in person if you can, but if you absolutely can't, sign up so you can get access to the recording. 
Q: "But there is no one in my community!"
A: Time and again, when the event is posted properly (which you'll learn how), we see folks who have never come out to an event before attend this workshop and then start participating in the community.
Q: I'm a white guy (or whomever is over-represented in your community). Can I run these workshops?
A: We recommend that you take the training and support someone from your community to run it. If needed you can always co-facilitate. If you're really stuck, you can run it.
Q: Does it work?
A: Yes! Jill and now her team have been training meetups to run this workshop for WordPress. The meetups around the world get the same kinds of amazing results that we do. WordCamps go from typically 10% diverse speakers to often 50% or more.
---
Organized by: Sherrie Rohde from Magento, an Adobe Company
Facilitator: Jill Binder from Diverse In Tech (https://diversein.tech)