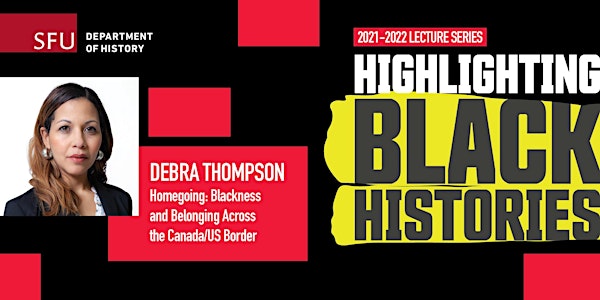 Homegoing: Blackness and Belonging Across the Canada/US Border
"But, where are you really from?" Exploring the boundaries of racial belonging in Canada and the US.
When and where
Location
SFU Vancouver Campus - Harbour Centre 515 West Hastings Street Room 1400 Vancouver, BC V6B 5K3 Canada
About this event
Homegoing: Blackness and Belonging Across the Canada/US Border
The Simon Fraser University Department of History invites you to attend the second lecture in our 2021-2022 Annual Public Lecture Series, Highlighting Black Histories.
Due to COVID-19, this year's lectures will have a only a limited number of in-person guests. In-person guests will be required to wear masks in all in-door campus spaces and show proof of vaccination and one piece of government ID before being allowed access to the lecture theater. Be sure to register early if you plan to attend in-person!
Guests who choose not to attend in-person will be able to watch the lecture live, and participate in the Q&A, via the Zoom platform. A link to the Zoom webinar will be distributed by email to all registered attendees with online admissions at 2PM on October 22nd. Only registered attendees with a valid email address will receive the Zoom webinar link.
IMPORTANT: Please choose between 'In-person Admission' and 'Online Admission' when registering for the event.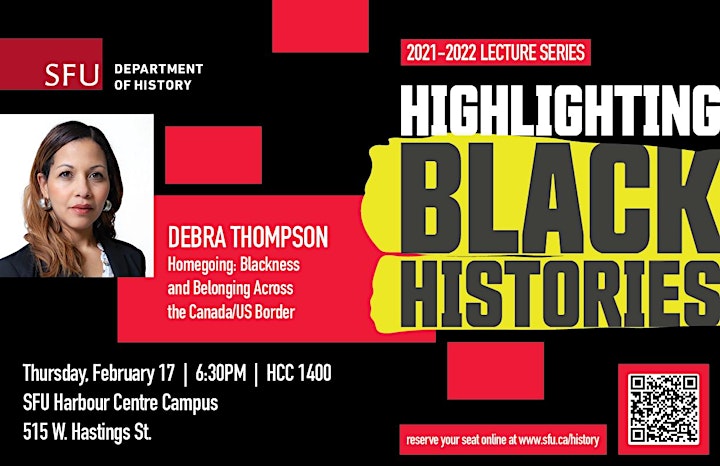 "But, where are you really from?" Using the analytical insights of Black political thought and the hard lessons learned from a decade of moving back and forth across the Canada/US border, Debra Thompson explores the boundaries of racial belonging, considers the peculiar nuances of racism in Canada and the United States, revels in the resilience of freedom dreams that link and inspire Black people across national borders, and, ultimately asks what it means to be in a place, but not of that place.
Debra Thompson is an Associate Professor of Political Science and Canada Research Chair in Racial Inequality in Democratic Societies at McGill University. A leading scholar of the comparative politics of race, Thompson's award-winning book, The Schematic State: Race, Transnationalism, and the Politics of the Census (Cambridge University Press, 2016) examines the political development of racial classifications on the national censuses of the United States, Canada, and Great Britain. She is currently writing a non-fiction book, The Long Road Home (Simon & Schuster 2022) on the nuances of race and racism in Canada and the United States, as well as working on an academic book project on the global appeal of the Black Lives Matter movement.