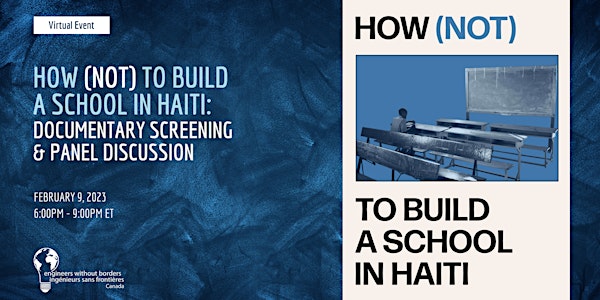 How (not) To Build a School in Haiti - Film Screening & Panel Discussion
Join us for a free, private film screening and panel discussion about the clash of good intentions, power and privilege in foreign aid.
About this event
Join EWB Canada on Thursday, February 9, 2023 at 6:00pm - 9:00pm EST for a free, Thought Leadership film screening and panel discussion. With the intention of cultivating critical thinking and conversation surrounding the impact of international development, innovation and aid, the event will feature a screening of the documentary "How (not) to Build a School in Haiti". Created by filmmaker Jack Newell, the film showcases the human collision of development, history and colonialism when a seemingly simple aid project spirals out of control in Haiti, forcing a reckoning on privilege and power. Following the film, we will host a curated panel discussion with leaders in the development, aid and not-for-profit spaces - giving you a chance to interact with, and learn more about international development, sustainable foreign aid, human investment, innovation, and human rights. Sitting on the panel, and providing their insight is Jack Newell, the filmmaker; Dr. Bonny Ibhawoh, a Professor of Human Rights and Independent Expert to the United Nations; Brian Harrigan, CEO of EWB Canada; and Beth Borody, Vice President Sustainability at New Gold Inc. and the Founder of Femina Collective. With a diverse group of voices, experiences and educational backgrounds, you'll be sure to walk away from the event with a deeper understanding of global relations, and a more nuanced approach to your place within these systems.