In this 5-session challenge, Female Entrepreneurs will learn effective strategies on finding more clients online
About this event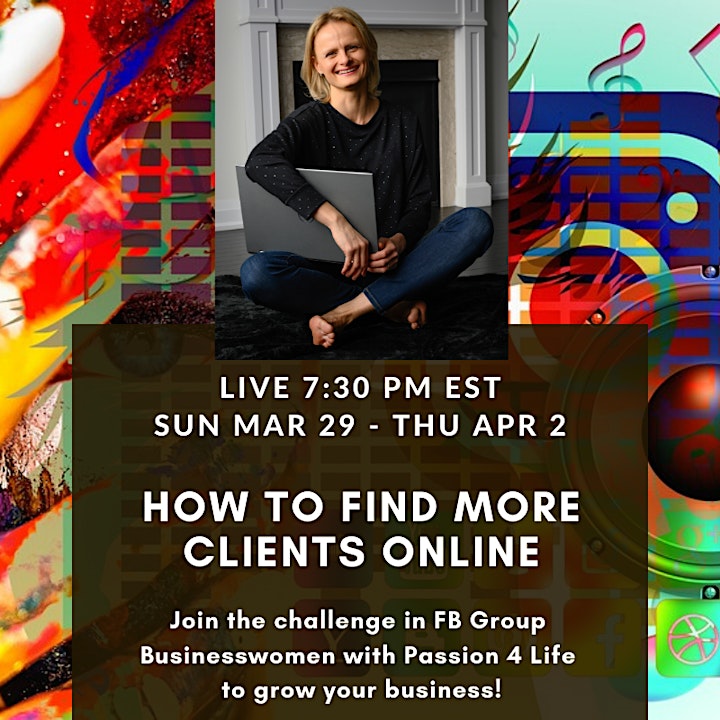 Event Details:
We'll be meeting in our group Businesswomen with Passion 4 Live over 5 days at 7:30 PM EST sharp starting Sunday, March 29th. Be sure to join us first by clicking here.
Kick-Off - Sunday, March 29, 7:30 pm EST - Launch of the Challenge with the first key lesson and homework
DAY 1 - Monday, March 30, 7:30 pm EST - DREAM - We'll be dreaming up your ideal client and you'll find out why it's so critical to know who that is.
DAY 2 - Tuesday, March 31, 7:30 pm EST - PLAN - This day is all about online marketing
DAY 3 - Wednesday, April 1, 7:30 pm EST - PLAN - Even though it's April Fool's Day - knowing how to sell in a way that feels natural to you is no joke ;)
DAY 4 - Thursday, April 2, 7:30 pm EST - DO - By the end of this session you'll be ready to go an apply what you've learned to find more clients online and get results!
I can't wait to connect with you in this Challenge 🤩👏💃!
With much love and excitement 💓,
Maggie
Organizer of How to Find More Clients Online