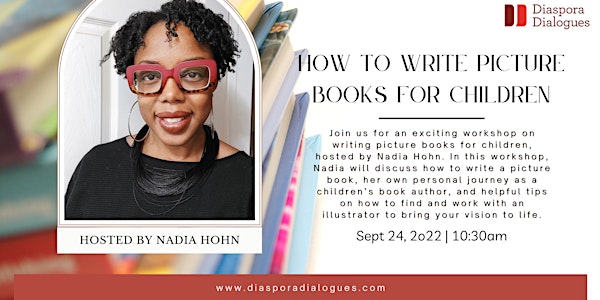 How to Write Picture Books for Children
Join us on September 24, 2022 for an exciting workshop all about writing picture books for children, hosted by Nadia Hohn.
Refund Policy
Contact the organizer to request a refund.
About this event
Join us for an exciting workshop on writing picture books for children, hosted by Nadia Hohn. In this workshop, Nadia will discuss how to write a picture book, her own personal journey as a children's book author, and helpful tips on how to find and work with an illustrator to bring your vision to life.
About the Presenter
Toronto-born of Jamaican parents, Nadia L. Hohn is an award-winning author, educator, and "artivist" who advocates for diversity in children's literature. Nadia L. Hohn is the author of Malaika's Costume (2016) which was the 2021 TD Grade One Book Giveaway. Her other books in the series are Malaika's Winter Carnival (2017), Blue Spruce-nominated Malaika's Surprise (2021), and Malaika, Carnival Queen (2023), published by Groundwood Books. Nadia has also written Harriet Tubman Freedom Fighter (Harper Collins, 2018), Music (Grade 5) and Media (Grade 6) in the Sankofa Black Heritage Collection series (Rubicon Publishing Inc, 2015), and A Likkle Miss Lou: How Jamaican Poet Louise Bennett Coverley Found Her Voice (Owlkids Books, 2019). Nadia has edited a middle grade anthology which comes out in 2023. She continues to write plays as well as picture books and novels for young people.
Her freelancing work work has been featured in anthologies and publications, like Psychology Today, Quill & Quire, Owl, Chickadee, Book News, ByBlacks, and Write.
Nadia L. Hohn completed her Bachelor of Arts degree in Honour's Psychology at the University of Waterloo. She completed her Bachelor and Master of Education degrees at the Ontario Institute for Studies in Education at the University of Toronto (OISE/UT). She recently completed a Master of Fine Arts in Creative Writing from the University of Guelph.
Nadia L. Hohn has made over 100 book presentations at schools, libraries, book stores, and literary festivals in Canada, the United States, United Kingdom, Trinidad, Jamaica, and United Arab Emirates.
Nadia lives in Toronto where she teaches elementary school and at the University of Toronto School for Continuing Studies (UTSCS) and Centennial College.
Presented By
Diaspora Dialogues (DD) supports emerging writers to turn their craft into a career through mentorship, professional development and opportunities to publish and present their work. Our mentoring programs are the most successful in the country for alumni getting published. More than 750 writers/artists have participated as mentors or mentees, emerging playwrights or dramaturges, commissioned artists or panelists, readers or performers. 450+ new literary works have been created through DD programs, 300 events produced and a live audience well in excess of 150,000 Canadians has attended those events. DD also publishes TOK Magazine, an online platform for fiercely honest, freshly original writing and convenes TOK Symposiums, multi-day events for readers and writers which combine author talks and professional development seminars.
During these strange and challenging times, Diaspora Dialogues continues to support those who create stories we turn to for comfort, solace, and strength — our authors. To do that we need your help.
This event is registered by donation, please consider supporting us at this time. Thank you.