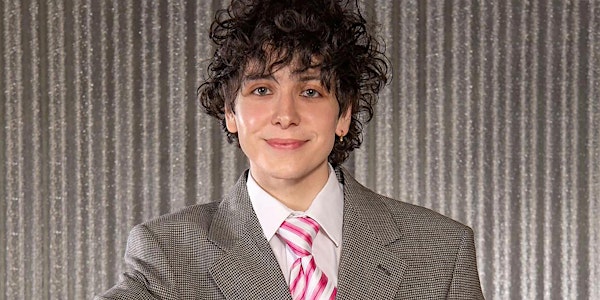 Hubert Lenoir
ALL AGES
Supercrawl Presents
Supercrawl Presents Hubert Lenoir Pay What You Care Tour – Live at Bridgeworks!
When and where
Location
Bridgeworks 200 Caroline St. N. (off Barton St. W.) Hamilton, ON L8R 0A6 Canada
About this event
Hubert Lenoir stands for eccentricity, colour, glitter and above all talent. At the age of 23, the Quebec singer writes, composes and performs everything himself. Hubert Lenoir was on the cover of les Inrocks and Le Monde France, shortlisted for the Polaris Music Prize, praised by The Fader, I-D, Exclaim amongst many after releasing his 2018 debut Darlène. He has Performed at Red Bull Music Academy & has collaborated with Fashion label Ssense. Lately he has been working on a new record Musique Directe with a newly released single "Secret" a song featuring Mac Demarco and Kirin J. Callinan. The record, a sharp left turn from his debut that features contributions from artists like Kirin J Callinan, High Klassified, Mac Demarco and experimental punk band CRABE that feels just like Hubert' live performances: an incredibly singular expression from one of the more unique creative minds in music today.
These performances will be accessible to people regardless of income or financial status and background with a "Pay What You Care" formula on this debut USA tour in support of Musique Directe. It will also be an opportunity to reflect on what is required from artists in relation to their financial touring situation through each and every performance.
Instagram | Facebook | Twitter | TikTok | Spotify | Apple Music
•
« Hubert Lenoir impressionne par sa capacité à digérer de façon totalement décomplexée 50 ans d'histoire de la musique populaire. Il envoie dans une joyeuse culbute interstellaire identitaire Bowie et Prince ! » - France Inter
Hubert Lenoir, 23 ans, est un jeune garçon, auteur-compositeur-interprète rempli de bonnes intentions. Il a grandi à Beauport, en banlieue de la ville de Québec. Jeune, Hubert s'initie rapidement à la culture de masse par Vrak TV et les jeux vidéo. Lorsqu'il n'est pas scotché devant le petit écran, il vole les bijoux de sa mère et les porte en cachette. Au secondaire, ses confrères le décrivent comme «étrange» et «fif», lui s'entend comme une âme perdue. Un jour, il fait la connaissance de deux autres amis «étranges» et «fifs». Ensemble, ils découvrent Donovan, Brian Eno, Elton John et s'encouragent à porter des vêtements de femme pour aller en cours. Des mélodies commencent à se faufiler dans sa tête.
Rapidement, Hubert Lenoir abandonne l'école et cumule plusieurs emplois dont un poste d'ouvrier à la chaîne de montage dans une usine de fenêtres pour immeubles commerciaux. Il commence à chanter dans la rue comme amuseur public. C'est à 17 ans qu'il forme avec son frère The Seasons. En 2014, la formation fait paraître son premier album Pulp à l'origine d'une reconnaissance critique et d'un accueil enthousiaste du public. S'en suit une tournée qui dure plus de deux ans et qui les fera voyager un peu partout dans le monde, de Berlin à Los Angeles. Malgré le succès du groupe, Hubert continue à chanter dans les rues où il offre des performances explosives.
Au retour d'une longue tournée, Hubert Lenoir vit une année de tumultes, d'insomnie, de fast-food et de blockbusters lors de laquelle s'écrit et s'enregistre Darlène, un album concept qui est accompagné d'un roman du même nom écrit par Noémie D. Leclerc, sa meilleure amie et son amie de cœur. Entièrement réalisé à Québec, cet opus marie les influences de R&B, de glam rock, de prog, de rock psychédélique, de jazz et fait de Darlène une œuvre pop, éclectique, imprévisible et audacieuse, s'inscrivant comme un opéra post-moderne sur le «coming of age» d'une génération.
••
PLEASE NOTE
In an effort to mitigate the continued impact of the COVID-19 pandemic, proof of full COVID-19 vaccination will be required for entry. This policy will be added to the mandatory public health measures already in effect.
The province of Ontario requires attendees to supply government-issued proof of full COVID-19 vaccination (with Government of Canada approved vaccines, completed at least 14 days before gate time). Government issued photo ID matching details on vaccination must also be presented for validation purposes. If you were vaccinated outside of the province of Ontario or outside of Canada, please provide a digital PDF or printed copy of your government issued vaccination confirmation receipt for your Government of Canada approved vaccine. Electronic vaccine receipt can be obtained using a green Ontario health card via covid19.ontariohealth.ca.
Active screening, contact tracing, proper face masking and PPE, physical distancing from individuals outside of one's household, and capacity limits all have important roles to play in enhancing the safety of our performance spaces, limiting viral spread, and improving health metrics in the wider community.