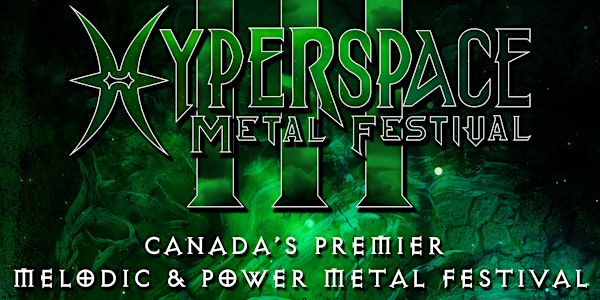 Hyperspace Metal Festival III
Ages 19+
Presented by Journeyman Productions
Canada's premier melodic/power metal festival returns to The Rickshaw! Don't miss a minute and get your 3-Day Pass to catch the whole fest!
When and where
Location
Rickshaw Theatre 254 E. Hastings Street Vancouver, BC V6A 1P1 Canada
Performers
Headliners
More Performers
Silver Talon
Apprentice
Tzimani
Forsaken Rite
Evereal
Witherfall
Archon Legion
Ravenous
Planeswalker
Novareign
Syryn
Ophelia Falling
Helion Prime
Paladin
Gatekeeper
Arkenfire
Lycanthro
Wintersreach
Into Eternity
About this event
FEATURING:
Iron Kingdom, Witherfall, Into Enternity, and many more!
Tickets for each individual night on sale now, as well as a discounted 3-Day festival pass!
NIGHT 1 (Friday, April 15th at Funky Winkerbeans) LINEUP:
Iron Kingdom, Silver Talon, Apprentice, Tzimani, Forsaken Rite, Evereal
NIGHT 2 (Saturday, April 16th at The Rickshaw Theatre) LINEUP:
Witherfall, Archon Legion, Ravenous, Planeswalker, Novareign, Syryn, Ophelia Falling
NIGHT 3 (Sunday, April 17th at The Rickshaw Theatre) LINEUP:
Into Eternity, Helion Prime, Dire Peril, Gatekeeper, Arkenfire, Lycanthro, Wintersreach
NIGHT 1 (Friday, April 15th at Funky Winkerbeans) LINEUP:
Iron Kingdom
Inspired by legendary pillars of heavy metal such as Iron Maiden, Judas Priest, The Scorpions, and Rush, this four-piece is well known for their energetic and electrifying stage presence, as well as intricate musical melodies that bring listeners back to a time when heavy metal was in its prime.
Iron Kingdom Online:
Silver Talon
Silver Talon rose from the ashes of Portland metal group Spellcaster, who disbanded in 2017. Guitarists Bryce VanHoosen and Sebastian Silva teamed up and managed to breathe new life into the project right away. Their chemistry was undeniable from the get-go, and they sealed the deal with the addition of vocalist Wyatt Howell, who helped Silver Talon further refocus their identity and sound.
Silver Talon Online:
Apprentice:
Tzimani:
Forsaken Rite:
Evereal:
NIGHT 2 (Saturday, April 16th at the Rickshaw Theatre) LINEUP:
Witherfall
Witherfall are unstoppable! The dark melodic heavy metal juggernaut from Los Angeles are blazing new trails and weaving new tales on spectacular new album, Curse of Autumn. Although two years separate Witherfall's third opus from their celebrated A Prelude to Sorrow album, it feels like a long time. Even with the Vintage EP bridging the gap, the wait has been cruel. Well, Witherfall legions the tease of what's to come is out there.
Witherfall Online
Archon Legion
Bringing back the old school. These 5 shredtacular dudes deliver a metal assault like no other. 3 axes, Vocal Harmonies, Headbangin, Metal, Satan.
Archon Legion Online
Ravenous
Based out of Canada, Ravenous E.H combines elements of Speed, Thrash, Power, Doom, Black, and Progressive Metal into one heavy, uniform, streamlined package… Metallum Heroica Celeritas - Heroic Speed Metal.
Ravenous Online
Planeswalker:
Novareign:
Syryn:
Ophelia Falling:
NIGHT 3 (Sunday, April 17th at The Rickshaw Theatre) LINEUP:
Into Eternity
Founded in Regina, Saskatchewan (Canada) by Tim Roth in the late '90s, INTO ETERNITY first caught the attention of a small Dutch label that released their self-titled debut in 2000. Two years later, sophomore album Dead Or Dreaming – released internationally by Century Media Records, and supported by tours with Dying Fetus, Kataklysm and Hate Eternal – formally introduced the band to the metal world.
Into Eternity Online
Helion Prime
Helion Prime is a power metal quintet from Sacramento, California whose dramatic, anthemic sound and songs reflect the powerful influence of science fiction and classic progressive metal.
Helion Prime Online
Dire Peril
Sci-fi power metal from Sacramento, California.
Paladin Online
Gatekeeper:
ArkenFire:
Lycanthro:
Winters Reach: