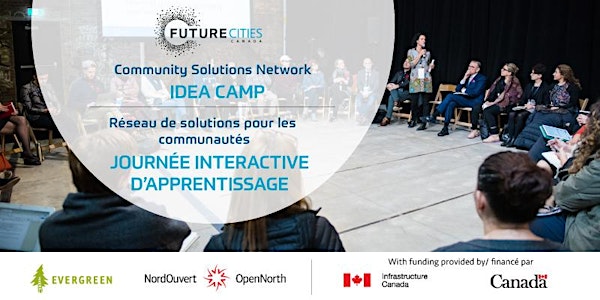 Idea Camp/Journée interactive d'apprentissage
Date and time
Wed, May 15, 2019 8:00 AM - 4:00 PM EDT
Location
Bayview Yards 7 Bayview Rd Ottawa, ON K1Y 2C5 Canada
Description
*Le français suit*


We invite municipal staff, Indigenous leaders, and senior staff at organizations across sectors looking to learn about the application of open smart approaches to solving complex challenges to j

oin

Evergreen

, in partnership with

OpenNorth

, for the first of the Community Solutions Network's Idea Camps.
A program of Future Cities Canada, the Community Solutions Network is a community-centric platform serving every type of community: big, mid-sized, Indigenous, small and northern. We invite you to be part of this movement.
The Idea Camp will bring together municipal staff, Indigenous leaders, academics, and senior staff at organizations from across the region to learn about emerging trends, issues, and approaches in open smart cities, and gain access to practical toolkits and other relevant programs that can support the implementation of local projects. Through a combination of expert training, peer-to-peer learning, and diving into local case studies, participants will leave with the skills to critically evaluate and apply approaches to strengthen access to open data, structure cross-sector governance, and improve public engagement. Check out the agenda for the day.

Learn from dedicated leaders in this space such as Councillor Jeff Leiper, Ward 15 Kitchissippi, City of Ottawa, Nasma Ahmed, Director of the Digital Justice Lab, Jean-Noé Landry, Executive Director of OpenNorth, Barbara Swartzentruber, Executive Director of Intergovernmental Relations, Policy & Open Government at the City of Guelph, Darrell Bridge, Senior Data Analytics Strategist & Open Data Lead at the City of Ottawa, David Fewer, Director of CIPPIC, and many more.
***


Le Réseau de solutions pour les communautés offre une occasion formidable au personnel municipal, aux dirigeants autochtones et aux cadres supérieurs d'organisations de divers secteurs qui veulent en savoir plus sur l'application d'approches qui sont axées sur l'ouverture et la technologie pour résoudre des défis complexes.

Joignez-vous à

Evergreen

, qui travaille en partenariat avec

NordOuvert

, pour la première journée interactive d'apprentissage du Réseau de solutions pour les communautés qui se tiendra le mercredi 15 mai 2019 à Ottawa.
Le Réseau de solutions pour les communautés, qui est l'un des programmes de Villes d'avenir Canada, est une plateforme axée sur la communauté et mise au service de toutes les collectivités : grandes, moyennes, autochtones, petites ou septentrionales. Nous vous invitons à prendre part à ce mouvement.
La journée interactive d'apprentissage réunira du personnel municipal, des dirigeants autochtones et des cadres supérieurs d'autres organisations de la région qui pourront en apprendre sur les tendances émergentes, les défis et les approches des villes intelligentes ouvertes et avoir accès à d'autres programmes pertinents pouvant appuyer la mise en œuvre de projets locaux. Grâce à une combinaison de formation spécialisée, d'apprentissage par les pairs et d'analyse d'études de cas locales, les participants acquerront les compétences pour évaluer et appliquer de façon critique les approches visant à renforcer l'accès aux données ouvertes, à structurer la gouvernance intersectorielle et à améliorer la participation du public.
Apprenez de chefs de file dans ce domaine comme Nasma Ahmed, Directrice du Digital Justice Lab, Jean-Noé Landry, Directeur général de NordOuvert, Barbara Swartzentruber, Directrice générale de relations intergouvernementales, politique & gouvernement ouvert à la ville de Guelph, et de nombreux autres.
Contact/Coordonnées
Julie Fader, Program Coordinator/coordonnatrice de programme, jfader@evergreen.ca
About the organizer
Future Cities Canada is a collaborative platform that harnesses the momentum for change already in progress in cities.
It brings together people, ideas, platforms and innovations from across sectors to address two of the most pressing issues of our time: inequality and climate change and their consequential challenges facing cities.