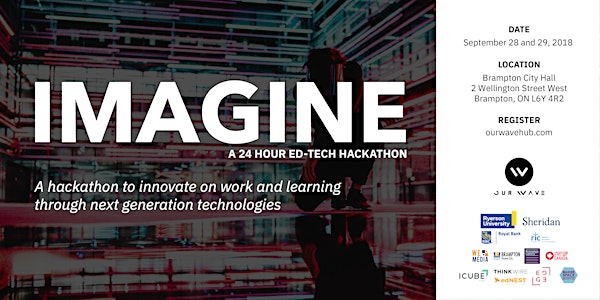 When and where
Location
Brampton City Hall 2 Wellington Street West Brampton, ON L6Y 4R2 Canada
Refund Policy
Refunds up to 7 days before event
Description
What is IMAGINE?
IMAGINE is a 24 hour ed-tech hackathon hosted by Our Wave Hub powered by Ryerson University

Our supporters include the City of Brampton, Sheridan College, Research Innovation & Commercialization (RIC) Centre & Royal Bank of Canada (RBC).

IMAGINE is the third event of a series of three events called #TheFutureOf

Our main streams of tech focus will be Artificial Intelligence & Robotics

The hackathon is limited to applications of how these technologies can be applied on work & learning structures

We hope to create an environment powered by technology & supported by creative thinking, bringing together students, innovators, entrepreneurs & creatives to use ideate, connect, prototype & build
Can I still attend if I'm not a tech person / know nothing about AI & Robotics?
Absolutely! Not everyone at the hackathon will be a tech person. Teams are made up of both technical & non-technical talent. If you're interested in the use of technology in the classroom or the workplace, or if you'd like to meet new, super cool people - we say please come out!
The hackathon will include:
One on one mentorship opportunities

Networking opportunities

Guided business modelling sessions

Breakout pitch training

Meeting with investors

Cross-industry collaboration
Prize Packages & Speakers to be announced soon!
AGENDA:
DAY 1 - Friday Sept 28, 2018
6PM: Doors Open, Registration & Open Networking
6.45PM: Opening Remarks

7PM: Our Wave Welcome & #TheFutureOf Recap
7.20PM: "Is Your Education Future Proof?", by Dr Keith Hampson
8PM: "Meeting the Challenge: Start-Ups, Governments and the Future of Work", by Charles Finlay
8.40PM: Introductions & Idea Pitches
9PM - 7AM: HACK HACK HACK! ( Participants will have access to City Hall facilities overnight to build their solutions )
DAY 2 - Saturday Sept 29, 2018
8AM: Doors Open
9.30AM: Breakfast
10.00AM: Day Overview & Format
10.15AM: Speed Dating w Experts
12PM: Lunch & Pitch Workshop
1PM: Breakout Mentorship Sessions
5.30PM: Deadline for Pitch Submission
5PM - 6.30PM: Dinner & Set up for Demo Presentations
6.30PM - 7.30PM: Demo Round
8.15PM - 9.15PM: Pitch Competition
10.00PM: Final Announcements, Thank You & Wrap Up
Why should you be there?
Networking
Hackathons / events in general are a great way to meet other like-minded individuals who share similar values & beliefs
A Common Cause
With the theme of IMAGINE being ed-tech, attendees are already united by their shared interest of building something / problem solving using technology
Actionable Impact
#TheFutureOf is a series of 3 events that we've run and all of the insights and solutions developed along the way will be summarized into a whitepaper and circulated among the GTA innovation ecosystem
A Great Monday Morning Story
Attending the hackathon, and actually problem solving for 24 hours straight is a great monday morning story for when your peers/friends/co-workers ask, "How was your weekend?"
What is ed-tech?
Ed-Tech refers to software designed to enhance teacher-led learning in classrooms and improve students' education outcomes. EdTech is in the early stages of development but it shows promise as a method of customizing curriculum for a student's ability level by introducing and reinforcing new content at a pace the student can handle. EdTech is the intersection of "education" and "technology."
Dress Code
Comfort > Style
You're going to be doing many things, all the time at the hackathon and need to be comfortable i.e. jeans & a hoodie/t-shirt
24 hours?!
Yes - that's 24 hours of non-stop activities, networking, engaging speakers, creating, innovating...you get it ;)
Please bring a pillow / sleeping bag if you'd like to catch some Zzz on-site.
Under 18 years of age?
Please ensure that your Participant Agreement Form is completed & signed by your parent/guardian and submitted back to the organizers prior to or at the event.
BACKGROUND:
We aim to start the conversation around the impact & potential impact that AI, Automation and Robotics will have on the future of work. The automation potential across industries is only getting higher, which leaves us to think that the question is not how we avoid this change, but how best we prepare for it.

According to the McKinsey Global Institute report, A Future that Works: Automation, Employment and Productivity,about half the activities people are paid to do, almost $15 trillion in wages in the global economy have the potential to be automated by adapting currently demonstrated technology, according to their analysis of more than 2000 work activities across 800 occupations.

Want to connect before the event? Check out our website at ourwavehub.com or give us a shout on Twitter, Instagram or Facebook @ourwavehub

Disclaimer: If you are unable to attend the event for the reason that the ticket prices are not affordable, please feel free to contact us at learn@ourwavehub.com and we will do our very best to get you out to the event!