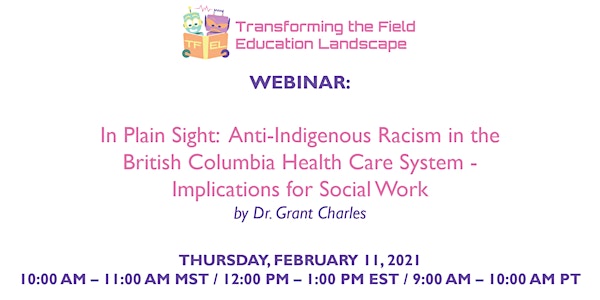 In Plain Sight: Anti-Indigenous Racism in the BC Health Care System
This webinar will discuss the Anti-Indigenous Racism in the British Columbia Health Care System and its implications for Social Work.
About this event
Description: In June 2020, claims surfaced about a "Price is Right" game allegedly being played in some B.C. hospital Emergency Departments, in which health care workers were guessing blood alcohol levels of Indigenous patients. The BC Minister of Health commissioned an independent Review to investigate the "Price is Right" allegations and whether this game or other forms of Indigenous-specific racism are being experienced by Indigenous people using the provincial health care system, make findings of fact, and to make any recommendations it considers necessary and advisable. The Addressing Racism Review was formally launched on July 9, 2020 and released a report on November 30, 2020.
While the "Price is Right" allegations were unsubstantiated, the Review, consistent with its mandate, examined the experience of Indigenous peoples in B.C. health care system. The results are disturbing. Through listening to thousands of voices – through survey results, direct submissions, health care data, and interviews – a picture is presented of a health care system with widespread systemic racism against Indigenous people. This stereotyping, discrimination, and prejudice results in a range of negative impacts, harm, and even death. Indigenous women are particularly impacted. Public health emergencies are magnifying these issues.
The Review also found that this problem is widely acknowledged by many within the health care system, including those in positions of authority. There have been some well-intentioned and positive efforts to address this problem. However, these efforts are sporadic, disconnected, at times personality-dependent, and not underpinned by strong and systemic foundations. Addressing systemic racism requires coherent, systematic action. Uprooting Indigenous-specific racism in health care requires shifts in governance, leadership, legislation and policy, education, and practice. This webinar will present the findings of the inquiry with a specific focus upon the implications for social work.
Presenter: Dr. Grant Charles (Associate Professor, School of Social Work, University of British Columbia)