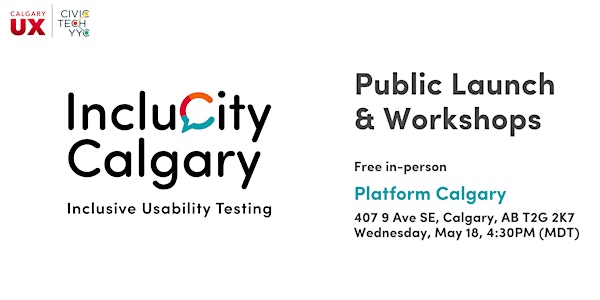 IncluCity Calgary Public Launch Event
Location
Platform Calgary
407 9 Avenue Southeast
Calgary, AB T2G 2K7
Canada
Join us at our public launch event to find out how inclusive usability testing can help improve Calgary's tech enabled-solutions.
About this event
What is IncluCity Calgary?
IncluCity Calgary is western Canada's first Inclusive Usability Testing Service. We aim to make Calgary's tech-enabled solutions more accessible and user friendly by including diverse and underrepresented voices in the development of technology. When we add inclusion to usability testing we reconsider the design process with the notion that if it doesn't work for someone, it doesn't work for everyone.
Launch Event Details:
The launch event will include interactive learning and networking experiences. It is open to all Calgarians interested in digital equity and the impact of our inclusive usability testing services. Attendees will have the chance to attend one of two workshops:
1. Usability Testing Workshop
The goal of this workshop is to demonstrate usability testing and the many components involved in evaluating tech-enabled solutions, services or processes using testers. You'll get to see what usability testing looks like from every angle. This workshop will be led by: Murray Thompson (He/Him) a User Experience Architect.
2. Inclusion and Access Workshop
This inclusion workshop aims to explore the necessary components of inclusion, accessibility and diversity. What does inclusive and accessible tech look like and how does usability testing play a role in creating digital equity? This workshop is for people who already know about usability testing but wish to better understand the role of diversity, equity, inclusion and accessibility in developing novel solutions.
This workshop will feature Scott Herron (He/Him) Accessibility Program Manager at Benevity and Ross Platell (They/Them) Project Administrator at IncluCity Calgary.
Itinerary:
4:30-4:45 - Doors open (15 minutes)
4:45-5:00 - Brief introductory presentation (15 minutes)
5:05-6:05 - Workshops (1 hour)
6:05-6:30 - Networking (30 minutes)
Other Ways to get Involved with IncluCity
Want to test your solution with us? Let's talk! (https://www.inclucitycalgary.ca/test-with-us)
Become a tester with IncluCity: We are actively recruiting a diverse group of Calgarians to test products and receive proper payment for their time. (https://www.inclucitycalgary.ca/become-a-tester)
Become a volunteer: We are seeking passionate individuals interested in UX design and/or making Calgary a more accessible city for all. Sound like you? Sign up to be a volunteer on our website here! (https://www.inclucitycalgary.ca/join-our-team)
Thank you to our Volunteers
The workshops are organized with the help of accessibility and web design professionals within IncluCity and CalgaryUX.