Inclusive Communities Summit: Sharing Experiences & Exploring Opportunities
Description
The Independent Living Resource Centre (ILRC), with support from the Government of Newfoundland and Labrador, invites you to participate in an Inclusion Summit, titled "Inclusive Communities: Sharing Experiences and Exploring Opportunities" on April 13-15, 2016.


There will be presentations and discussions on best practices and innovated approaches about the inclusion of persons with disabilities as it relates to a variety of topics including employment, technology, education, recreation, legislation and universal design. Everyone will benefit from participating in this exciting event, including individuals, employers, business owners, community organizations, educators, architects, builders, elected officials and government officials.


Register for this event now, and come learn how you can contribute to making Newfoundland and Labrador a more inclusive province! Check out our Inclusive Communities Summit website for more details on the event program and expert speakers!

Tickets are limited!

Register by March 16th and save with the early bird price!!


Contact Laura George, Event Coordinator, if:
the registration fee poses a challenge to you (subsidies are available for individuals and organization. The deadline to apply is March 16th)

you would like assistance with the registration process
you require disability related supports during the event (ASL interpretation, alternate documents, CART translation, extra ticket for a support worker)

you have dietary restrictions

Laura George, Event Coordinator
Email: laurageorge@ilrcnl.ca
Phone: (709) 765-1827


Once registered for the summit, email Laura George at laurageorge@ilrcnl.ca to indicate which concurrent workshops you want to participate in (to find out what concurrent workshops are available, go to the event program on the Inclusive Communities Summit Website)
Organizer of Inclusive Communities Summit: Sharing Experiences & Exploring Opportunities

Empower, The Disability Resource Centre is an organization committed to providing supports, resources, and opportunities for empowerment, which enable persons with disabilities to make informed choices about their lives. At Empower, we break barriers every day. Barriers to access. To knowledge. To choices. Anyone with a disability can use our services. Empower is a vital part of our community, and the need for our services is growing.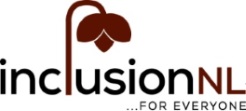 InclusionNL Employer Support Services is a program at Empower, The Disability Resource Centre.  Directed at providing services, supports, and education to businesses, employers, government, and service providers, this program aims to showcase the value of hiring people with disabilities as a viable labour source. Together, we can help your business become a more inclusive workplace while benefiting in other ways as well.