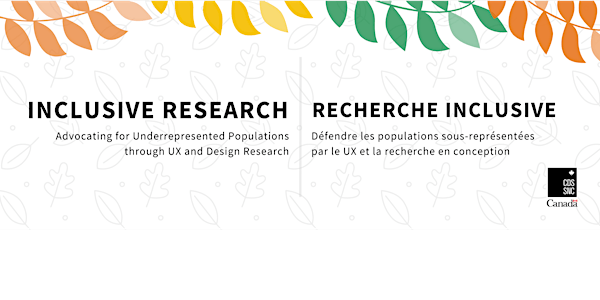 Inclusive research: Advocating for underrepresented users
Join us for the Autumn 2020 Design Research Community of Practice virtual meetup on Inclusive Research.
By Canadian Digital Service
Date and time
Wed, Nov 4, 2020 11:00 AM - 1:00 PM PST
About this event
For our fall 2020 meetup, we'll be hearing about how design researchers and their teams are connecting with, speaking up for and improving services for people who face additional challenges with government due to their race, ability, gender, age, digital literacy, income level, location or another factor. Join us for stories, inspiration and practical advice from those doing the hard work to understand the people we need to serve better.
Date: Wednesday 4th November - 2pm-4pm via Zoom (link will be provided the morning of the event.)
Format: We'll have 9 short five-minute presentations, each with 1-2 audience questions, followed by an option 30 minute afterparty from 3:30 to 4:00pm.
This is open to public servants from all levels of government in Canada (federal, provincial and municipal.) You will need to provide a government email address when you reserve tickets to verify where you work.
SPEAKERS
OPENING REMARKS - Mithula Naik - I/ Head of Design Research, Canadian Digital Service
DRAWING INCLUSION: VISUAL TOOLS IN DESIGN RESEARCH - Jordana Globerman, Employment & Social Development Canada
INCLUSIVE RESEARCH: WITH PEOPLE WHO ARE DEAF AND HARD OF HEARING - Antoine Garcia-Suarez , Radio-Canada
DIVERGING FROM THE MIDDLE: USING A GBA+ LENS TO IDENTIFY EXTREME VULNERABILITIES FOR REFUGEES - Adria Moore & Bonita Varga, Immigration, Refugees & Citizenship Canada
RESEARCH AND EXPERIMENTATION IN PROGRAM OPERATIONS BRANCH - Farhia Ahmed, Employment & Social Development Canada
BUILDING INCLUSIVE SERVICES FOR GENDER DIVERSE PEOPLE - Nourhan Hegazy, Treasury Board of Canada Secretariat
INCLUSIVE RESEARCH UNDER PRESSURE: RECRUITMENT AND RESEARCH FOR COVID ALERT - Mel Banyard, Canadian Digital Service
PSYCHOLOGICAL SAFETY + QUALITATIVE INTERVIEWING - Bilan Hashi, Ontario Workplace Safety & Insurance Board
MY DIGNITY OF RISK: WHAT WAS MEANINGFUL ENGAGEMENTS FOR THE ACCESSIBLE CANADA ACT - CASE STUDY - Catherine Charbonneau, Employment & Social Development Canada
IRCC'S ACCESSIBLE DESIGN CHALLENGE - Mitchell Wanless & Ju Lee, Immigration, Refugees & Citizenship Canada
--
Joignez-vous à nous pour la réunion virtuelle de la communauté de pratique de la recherche en conception de l'automne 2020 sur la recherche inclusive.
Pour notre rencontre de cet automne 2020, nous entendrons parler de la façon dont les chercheurs en conception et leurs équipes se connectent avec, défendent et améliorent les services pour les personnes qui font face à des défis supplémentaires avec le gouvernement en raison de leur race, leur capacité, leur sexe, leur âge, leur compétence numérique, leur revenu, leur localité ou pour tout autre facteur. Rejoignez-nous pour entendre les témoignages, être inspiré et bénéficier de conseils pratiques venant de ceux qui travaillent dur pour comprendre ceux que nous devons mieux servir.
Date : mercredi le 4 novembre de 14:00 à 15:30 via Zoom (le lien sera fourni un peu avant l'événement).
Format : Nous aurons 9 courtes présentations. Nous ajoutons également un after-party optionnel de 30 minutes de 15h30 à 16h pour ceux qui peuvent rester.
Veuillez noter que nous demanderons aux présentateurs d'inclure du contenu en français si possible, mais certaines présentations seront entièrement en anglais. Pendant la séance de questions et réponses, les questions peuvent être posées en français et en anglais.
Cette séance est ouverte aux fonctionnaires de tous les niveaux du gouvernement au Canada (fédéral, provincial et municipal). Vous devrez fournir une adresse courriel gouvernementale lors de la réservation des billets afin que l'on puisse vérifier votre lieu de travail.
PRESENTATEURS:
REMARQUES D'OUVERTURE - Mithula Naik, Chef de recherche en design p.i. - Service numérique canadien
TRACER L'INCLUSION : LES OUTILS VISUELS EN RECHERCHE EN CONCEPTION - Jordana Globerman, Emploi et Développement social Canada
RECHERCHE INCLUSIVE: REPRÉSENTER LES PERSONNES SOURDES ET MALENTENDANTES - Antoine Garcia-Suarez, Radio-Canada
S'ÉCARTER DU MILIEU : UTILISER UNE OPTIQUE ACS+ POUR IDENTIFIER LES VULNÉRABILITÉS EXTRÊMES POUR RÉFUGIÉES - Adria Moore & Bonita Varga, Immigration, Réfugiés et Citoyenneté Canada
RECHERCHE ET EXPÉRIMENTATION DANS LA DIRECTION GÉNÉRALE DES OPÉRATIONS DE PROGRAMMES - Farhia Ahmed, Emploi et Développement social Canada
BATIR DES SERVICES INCLUSIFS POUR LA DIVERSITÉ DES GENRES - Nourhan Hegazy, Secrétariat du Conseil du Trésor du Canada
LA RECHERCHE INCLUSIVE SOUS PRESSION : RECRUTEMENT ET RECHERCHE POUR ALERTE COVID - Mel Banyard, Service numérique canadien
SÉCURITÉ PSYCHOLOGIQUE + ENTREVUES QUALITATIVES - Bilan Hashi, Commission de la sécurité professionnelle et de l'assurance contre les accidents du travail
MA DIGNITÉ DU RISQUE : ÉTUDE DE CAS SUR LES ENGAGEMENTS SIGNIFICATIFS DE LA LOI CANADIENNE SUR L'ACCESSIBILITÉ - Catherine Charbonneau, Emploi et Développement social Canada
LE DÉFI DE CONCEPTION ACCESSIBLE D'IRCC - Mitchell Wanless & Ju Lee, Immigration, Réfugiés et Citoyenneté Canada