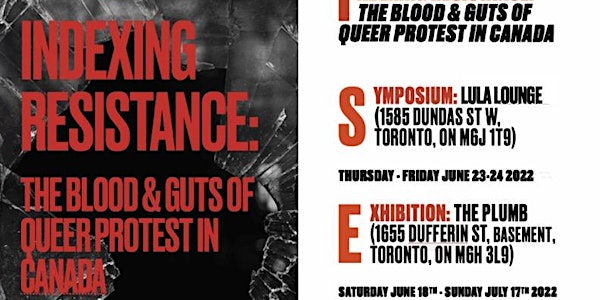 Indexing Resistance: The Blood and Guts of Queer Protest SYMPOSIUM
Location
Lula Lounge
1585 Dundas Street West
Toronto, ON M6J 1T9
Canada
A two-day symposium on protest, queer history in Canada and the archive.
About this event
Indexing Resistance is an interdisciplinary 2- day symposium at Lula Lounge with an accompanying month-long exhibition at the plumb. By reflecting on relationships between the visual, the scholarly, and preservation, Indexing Resistance presents papers and artwork exploring the diversity of resistance and protest in queer communities in Canada, focussing on untold, overlooked or forgotten histories. Keynote speaker, Julietta Singh discloses in her book No Archive Will Restore You (Punctum Books, 2018) that the concept of the archive is bodily, where memory and trauma are intertwined into the fabric of flesh. She contends that 'the archive' is both within us and beyond our touch. Singh's approach to queerness, race, the archive, and resistance addresses these complexities by suggesting that knowledge (corporeal or intellectual) cannot repair the past.
 Thank You: Joel Ong and Melanie Wilmink of Sensorium Centre for Digital Arts and Technology, York University; Janine Marchessault, Sara McDonald and Antoine Damiens of Archive/Counter-Archive (A/CA); Laura Taman from Centre Coordinator at Robarts Centre for Canadian Studies; Aimee Mitchell; Charlotte Whelan; Jose Ortega of Lula Lounge; The ArQuives; Patrick Keilty of The Sexual Representation Collection; Laura Carusi and Amanda Boulos of the plumb. Extra thanks to Emily Barton, Leslie Corbay, and Keith Cole.
 Funding Support: VPRI Funding for Scholarly Events and Outreach Activities; the plumb; The ArQuives; Robarts Centre for Canadian Studies, York University; Archive/Counter-Archive (A/CA); Social Sciences and Humanities Research Council (SSHRC)