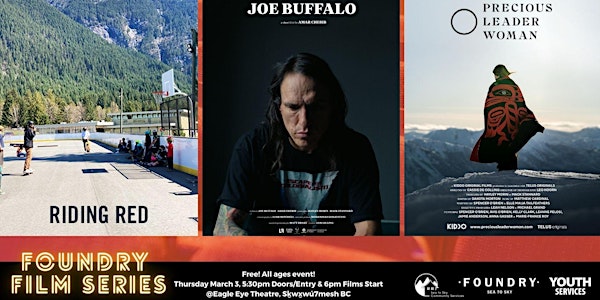 Indigenous Shredders
Join us for a collection of short films by local filmmakers, featuring local indigenous athletes hosted by SSCS and Foundry Sea to Sky.
By Sea to Sky Community Services
Date and time
Thu, Mar 3, 2022 6:00 PM - 8:30 PM PST
Location
Howe Sound Secondary School 38430 Buckley Avenue Squamish, BC V8B 0A1 Canada
About this event
On March 3rd, Sea to Sky Community Services (SSCS) and Foundry Sea to Sky are launching the first of three in-person movie nights for youth ages 12 to 24 and community, with the screening of INDIGENOUS SHREDDERS, a collection of short films by local filmmakers, featuring local indigenous athletes. Each film showcases the positive impact of sport on mental health and wellbeing, reminding us of the poignant need for Foundry Sea to Sky and the new Youth Hub. These movie nights are a part of the ongoing excitement building for the June 2022 opening of this brand-new facility, which will host an integrated slate of clinical, social and recreation based programs and services.
We're fortunate to be able to present JOE BUFFALO, a multiple-award-winning 15-minute documentary film by Vancouver filmmaker Amar Chebib, that is currently taking film festivals by storm. The film has famously garnered support from none other than skateboarding legend Tony Hawk, who has joined the project as Executive Producer. JOE BUFFALO, the film, tells the story of its subject's journey to sobriety and to fulfill his dream of turning pro. Chebib, a Syrian-Canadian, grew up skateboarding in the Middle East and met Buffalo in 2005 in Montreal's skateboarding scene. They reconnected more recently in Vancouver, where both now live, and the documentary project was born. Joe Buffalo may be able to join us in person for the Q&A after the film.
Next up we are thrilled to share RIDING RED (16 mins), a short by local filmmaker Ross James Reid. Hailing from a broken cultural past, a new generation of First Nations youth find constructive outlets in the outdoors. This connects to new perspectives on ancestral lands, community and culture in a way that forges new opportunities to heal and grow into the future. The film showcases the work of the Indigenous Life Sport Academy, representatives of which will be present for the Q&A.
Finally, we'll be showing Cassie De Colling's award-winning 48-minute documentary PRECIOUS LEADER WOMAN. The film introduces us to Spencer O'Brien, Haida and Kwakwaka'wakw pro snowboarder. We follow her journey through victories, pain, healing and reconnection to her ancestral lands as she continues on to ever greater athletic challenges.
Event timeline
5:30pm - Doors open! Visit our Foundry booth and enter your name in for awesome prizes
6pm - Squamish Nation Welcome
6:30 - Joe Buffalo, Riding Red
7pm - Intermission and Concession
7:15-8 - Precious Leader Woman
8pm - Panel, Discussion, and Prize Draw
8:30pm - Event Ends
Want more information or have any questions?
Contact Caitlin Anderson, Youth Services Coordinator at caitlin.anderson@sscs.ca or 604-815-3004
**Please note: The event will take place at the Eagle Eye Theatre. There is no conflict with the VIMFF (which is happening in the gym).