InnovateWork Toronto Summit #7 - Creating Change in the Future World of Wor...
Description
The November 2019 #InnovateWorkTO event will bring together more HR, Talent, Tech and C-Level pros than ever before for an evening of learning and networking that's bigger and better than ever before!
Up to 500 professionals will come together at the North Building, Lower Level of the Metro Convention Centre for awesome speakers, a debate and networking opportunities for HR professionals and business leaders in Toronto
Ticket Options
1. InnovateWork TO Evening Only - Access to the event, panel and speakers, networking. Earlybird = $49.00 plus fees and taxes. General admission = $69 plus fees and taxes.
2. VIP Toronto Recruiters Conference AND InnovateWork Admission - Full-day Conference and Tradeshow access, including 10+ Industry Leading Speakers. Includes 1 lunch voucher, 1 social media post to promote your brand to our following of 50,000+ on TorontoJobs.ca accounts, 1 Job Posting Credit on TorontoJobs.ca ($149 value), preferred seating for conference sessions and access to InnovateWork Toronto #7 in the evening. CA$249.00 plus fees and taxes.
3. Toronto Recruiters Conference & Tradeshow Admission Only - Full day access to 10+ Speakers and The Toronto Recruiters Conference & Tradeshow admission. Includes: 1 Job Posting Credit on TorontoJobs.ca ($149 value), 1 lunch voucher. CA$149.00 plus fees and taxes.
InnovateWork Toronto #7 is brought to you by The HR Gazette & WorkTango. This event is supported by Future FoHRward and is being offered in collaboration with the Toronto Recruiters Conference. The venue will accommodate 500 people so be sure to invite your colleagues along! Check out the speakers here.
Agenda
4:00 pm - 5:15 pm - Registration and Networking outside of hall with sponsor booths
5:15 pm - 5:25 pm - Opening, Sponsor(s) Address
5:30 pm - 6:00 pm - HR Passion Series (9-minute Passion Talks)
John Stockwell, Senior Vice President & Chief People Officer, Dentsu Aegis Network

Megan Woerlein, Global Head of HR, Digital Banking, Scotiabank

TBD
6:00 pm - 6:30 pm - Networking
6:30 pm - 6:45 pm - Employee Communications | Sarah Beech, President at Accompass.
6:45 pm - 7:25 pm - Keynote Speaker - Shifting from Teams to Community | Eric Termuende, Best-Selling Authour of Rethink Work
Attracting and retaining top talent isn't easy. Competition is fierce, unemployment hasn't been this low since the second world war, and perks and benefits from other companies can be tough to match. What if we realized we weren't competing against other companies, and that if we optimized our culture rather than compared to others, that we could win the talent war? At InnovateWork on November 26th, you'll learn key ways to optimize culture and build something bigger than teams; community.
Takeaways include:
* How to optimize culture
* What stories to tell to attract the next generation of talent
* How to improve the job description
* Increase belonging amongst teams
7:25pm - 8:05pm - "The Debate" Be it resolved that financial compensation is the best lever to motivate people at work.
8:05pm - 8:30pm - Close & Networking
Sponsors and Partners
Thanks to our amazing partners and sponsors! Interested in sponsoring? Check out options and contact publisher@hr-gazette.com to learn more: https://innovatework.co/sponsorship/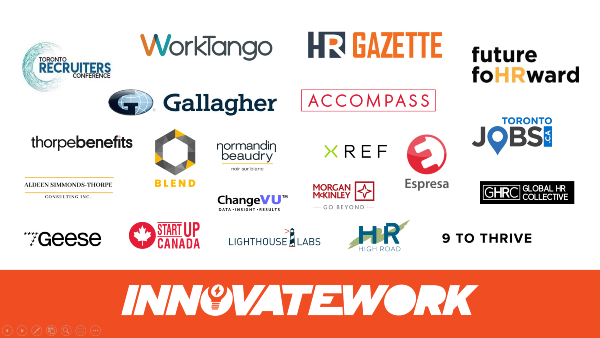 The HR Gazette - Organizing Sponsor - Latest opinion, reviews and podcasts for pros interested in HR Technology, Talent, Performance, Learning, Leadership.
WorkTango - Organizing Sponsor - A platform to give employees a voice and companies actionable insight.
Future FoHRward - Organizing Partner - providing HR professionals with the best community and content in a stimulating, engaging and interactive environment to prepare them for the Future of Work.
Toronto Recruiters Conference - Venue Partner - Powered by TorontoJobs.ca, #TRCONF has been designed for Recruiters to gain valuable information from industry leaders on key issues in the Employment Industry.
Accompass - Platinum Sponsor - A leading independent benefits, is an investment and compensation firm that designs and manages its clients' programs from the biggest picture to the smallest detail.
Blend HRM - Gold Sponsor - Helping organizations and individual clients successfully implement recruitment strategies. The firm produces tangible business outcomes by placing value in people management and development.
Espresa - Gold Sponsor - The world's first all-in-one Culture Benefits™ platform dedicated to helping HR and people teams design, launch, scale, and measure workplace employee program success.
Morgan McKinley - Silver Sponsor - Our mission is to connect niche specialist tech talent with leading employers across multiple industries and disciplines within Canada.
High Road Human Capital - Copper Sponsor - Veteran-owned, Diversity Supplier specializing in Talent Acquisition and Human Resources. High Road provides the resources, strategy, and vision to help. Services include resume screening and assessment, HR policy and procedure.
Thorpe Benefits - Copper Sponsor - Specialists in group benefits. Developing and implementing solutions that address both employee and organizational health.
Xref - Copper Sponsor - An online, mobile-friendly reference checking tool that enables fast, data-driven hiring decisions.
Normandin Beaudry - Copper Sponsor - Total rewards consulting firm providing advisory services in 8 areas of expertise including Performance, Group Benefits, Compensation, Pension and Savings, and Communication.
TorontoJobs.ca - Community Partner - Offering services designed to connect local employers to skilled candidates throughout the Toronto Area.
Global HR Collective - Community Partner - Created to design, develop & share the latest thinking, trends & best practices affecting the HR profession.
Aldeen ST Consulting - Community Partner - Working with SMBs to proactively transform and align their HR and business strategies.
Lighthouse Labs - Community Partner - Empowering students, launching careers, and contributing to the growth of Canada's tech industry.
Startup Canada - Community Partner - We are entrepreneurs working together to build a Canada for entrepreneurs and give a voice to the Canadian startup community.
7Geese - Named Sponsor - Helping businesses achieve ambitious company goals with OKRs and retain their people by enabling feedback, coaching, performance reviews, and career growth plans.
ChangeVU - Named Sponsor - The digital platform designed to deliver successful change more consistently by identifying and mitigating people risks. The system creates success profiles and change-oriented data analytics to improve decision-making speed and reliability.
------------

* Deadline for ticket transfers is Nov 1, 2019 at 1 pm.
Speaker Bios
Eric Termuende
Eric Termuende is a globally recognized thought leader, author, and international speaker on the future of work and building teams that thrive, His best-selling book, "Rethink Work" has become a must-read for today's leaders. As co-founder of NoW Innovations, he is creating a movement bringing diverse leaders together to share best practices and evolve in the NoW. As a popular media personality, he is featured in Forbes, Thrive Global, and The Huffington Post. Named as an American Express Top 100 Emerging Innovators Under 35, he was a representative for Canada at the G20 Summit in Sydney, Australia.
Website: www.erictermuende.com
LinkedIn: https://www.linkedin.com/in/erictermuende/
Twitter: @termuende