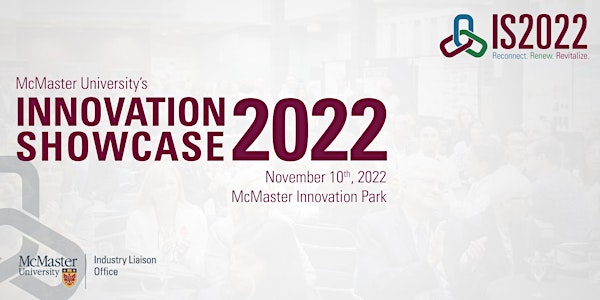 Innovation Showcase 2022 - McMaster University
Welcome to the Innovation Showcase 2022 presented to you by the McMaster Industry Liaison Office!
When and where
Location
McMaster Innovation Park 175 Longwood Rd S Atrium - First floor Hamilton, ON L8P 0A1 Canada
About this event
Join us for a day full of activities. Network; meet investors, industry professionals, entrepreneurs, and more, with tons of opportunities to have 1-on-1 chats and private meetings. Gain insider tips on securing funding from funders and investors. Listen in on panel discussions from guest speakers as they discuss topics around commercialization, its opportunities, and the challenges of connecting it to research.
Learn more from different researchers and entrepreneurs about their discoveries and start-ups developed at McMaster University. Participate in the poster competition for a chance to highlight inventions and discoveries to judges, potential investors, and industry leaders.
If you have any questions please contact, milodsk@mcmaster.ca
Agenda:
8:15 - 9:00 | Registration, Breakfast & Networking
9:00 - 9:10 | Introductions and Welcoming Remarks
9:10 - 10:00 | Keynote Speaker and Q&A
10:00 - 11:00 | Panel 1: Critical Connections
11:00 - 11:15 | Break
11:15 - 12:30 | Panel 2: Productive Partnerships
12:30 - 1:30 | Lunch
12:30 - 3:00 | Poster Competition
1:30 - 2:30 | Technology Showcase
2:30 - 3:30 | McMaster Start-Up Showcase
3:30 - 4:30 | Awards & Networking Reception