Description
By popular request, the June Innovator + Founders Circle Meetup will be continuing the summer fun and take us to Prince's Island Park for some fun in the sun.
To Bring:
A snack (anything from a bag of chips to something homemade, no pressure!)

Lawn games, if you have any (Bocce Ball, Frisbee, etc.)

A reusable water bottle to keep this event green
This is a casual event bringing together the community of student and alumni innovators and founders of Mount Royal University. All MRU Innovators and Entrepreneurs are encouraged to attend. You do not need to have an idea or a venture started, you just need to be curious and want to connect with fellow BIG THINKERS!

Please see the picture below for the exact location.
If you are on the fence about attending or have any questions, email Emily Knight: eknight@mtroyal.ca.
---
Location: Price's Island Park, near the River Cafe
Free street parking after 6pm.
Call Emily if you are lost: 403.921.6239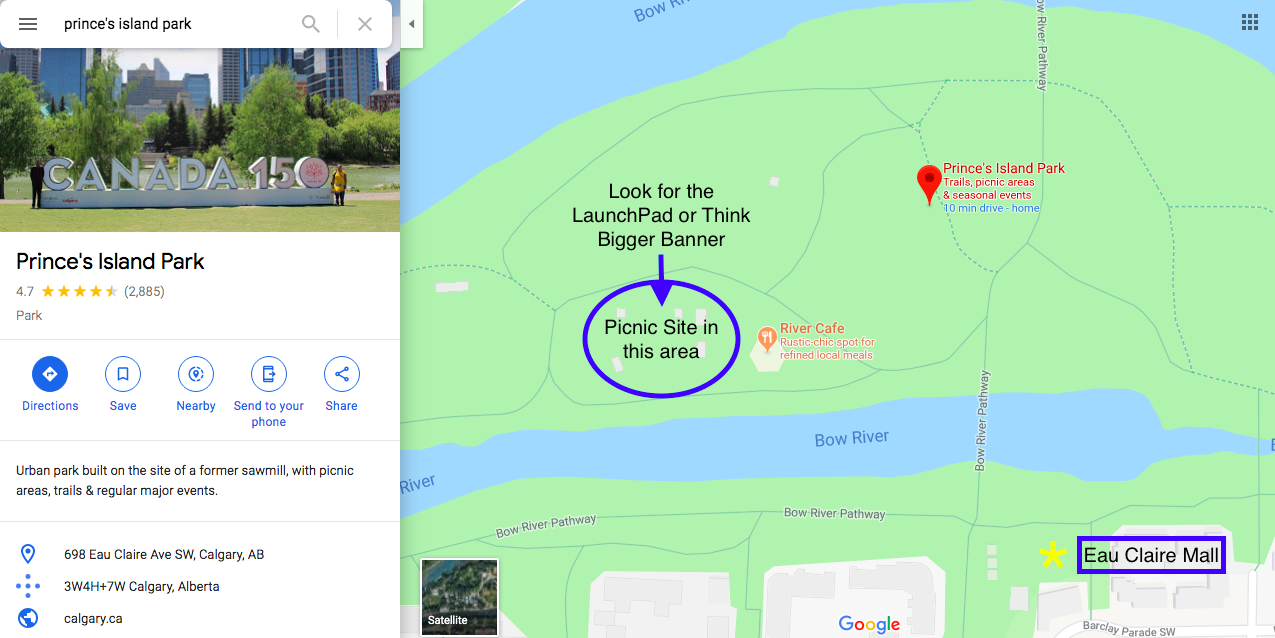 ---
This is an open event for all MRU students and Alumni.
---
The LaunchPad Founders Circle: Gather + Grow
We have identified that the connections you make along your university, entrepreneurial and career journey are what make individuals, startups, and founders the strongest and most successful. These are the people who will be there for you when things get tough, when you need answers, or a boost of inspiration. These informal connections are what make you stand out among your fellow entrepreneurial thinkers. If you don't have that idea yet, then this the perfect opportunity for you to network with student and alumni founders. Ask about their early stage days and how their journey started. You never know what a conversation can lead to - and that's the joy of these events! We encourage you to be curious, ask questions and THINK BIGGER.