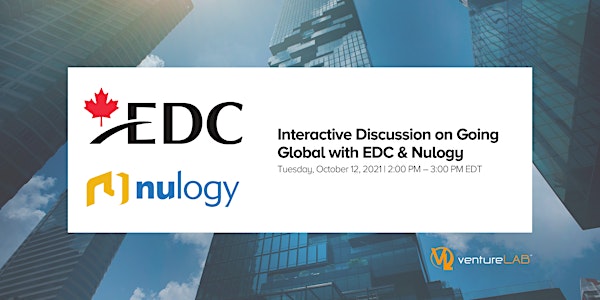 Interactive Discussion on Going Global with EDC &
Join ventureLAB and EDC for a fireside chat with Nulogy CEO, Jason Tham on the successes and challenges of Going Global.
About this event
Export Development Canada (EDC), in collaboration with ventureLAB, will be hosting an interactive discussion on "Going Global" featuring Jason Tham, CEO of Nulogy Corporation. The focus of the discussion will be on the key successes and challenges faced by growing technology companies as they expand into new markets. We will also discuss the following;
Why export?
Considerations when selling internationally
Where to go for help
This discussion will be moderated by Megan Malone, Export Development Canada (EDC). EDC supports the development of Canada's trade by helping Technology and Innovation companies respond to international business opportunities through risk management, financing and market knowledge.
Agenda:
2:00 PM - 2:10 PM: Welcoming Remarks
2:10 PM - 2:45 PM: Fireside Chat with Jason Tham - CEO, Nulogy, and Megan Malone, EDC
2:45 PM - 3:00 PM: Audience Q&A.
Interested in a one-on-one meeting with a member of EDC? Register for the event to express your interest and we will work with you to set up a meeting.
SESSION FACILITATORS
Megan Malone - Account Manager - Technology Group, EDC
Megan is an Account Manager at Export Development Canada (EDC), supporting GTA-based technology companies pursue international business opportunities. Prior to joining EDC, Megan held various positions across the public, private and NGO sectors both in Canada and abroad. She is a FITT Certified International Trade Professional (CITP®|FIBP®) and is also a college Professor of International Business Management.
SPECIAL GUEST
Jason Tham - CEO, Nulogy Corporation
Jason Tham is the co-founder, CEO and brand ambassador for Nulogy. He is focused on corporate development, executive leadership, and understanding the evolving landscape of Nulogy's clients. He is also on Nulogy's board and speaks throughout the industry on the agile supply chain. Jason draws from his experience in the continuous improvement and packaging groups at Kellogg's highly automated production facility, and in R&D, manufacturing and quality at Magna International. Jason graduated with a BSc (Hons) with a Management Sciences option from the University of Waterloo.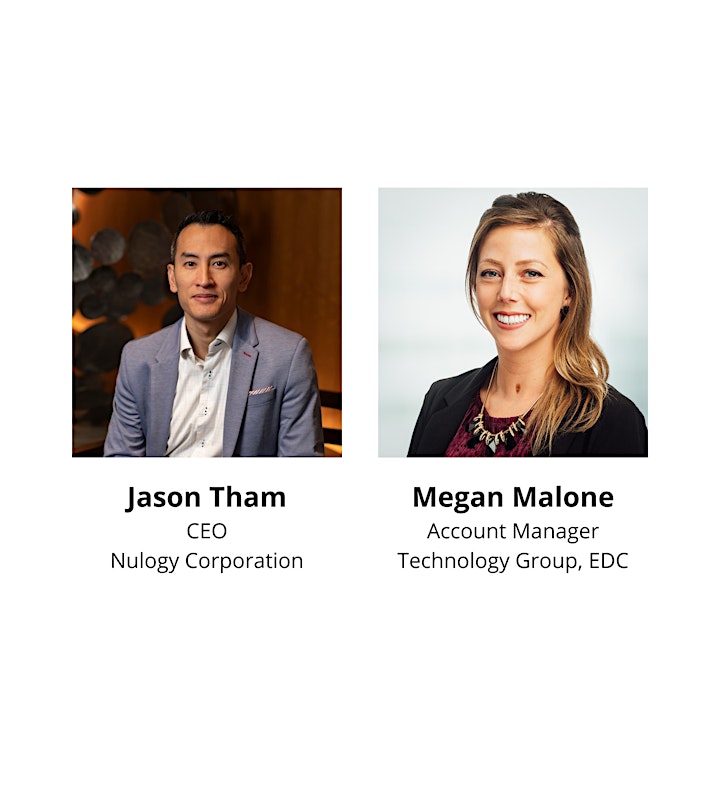 About Export Development Canada (EDC)
Export Development Canada (EDC) is a financial Crown corporation dedicated to helping Canadian companies of all sizes succeed on the world stage. As international risk experts, EDC equips Canadian companies with the tools they need—the trade knowledge, financing solutions, equity, insurance, and connections—to grow their business with confidence. From the onset of the current economic crisis, EDC has been working alongside federal partners and Canadian financial institutions to provide the financial relief and services that Canadian businesses need to weather the pandemic, here and abroad. Underlying it all is EDC's commitment to sustainable and responsible business.
About ventureLAB
ventureLAB is a leading global founder community for hardware technology and enterprise software companies in Canada. Located at the heart of Ontario's innovation corridor in York Region, ventureLAB is part of one of the biggest and most diverse tech communities in Canada. Our initiatives focused on raising capital, talent retention, commercializing technology and IP, and customer acquisition have enabled thousands of companies to create over 4,000 jobs and raise more than $200 million in investment capital. At ventureLAB, we grow globally competitive tech titans that build-to-scale in Canada, for global markets.
Photo/Video Disclaimer
ventureLAB events are recorded for educational and marketing purposes. If you do not wish to be included in these recordings please let a ventureLAB team member know as soon as possible so that we can omit you from the recording.