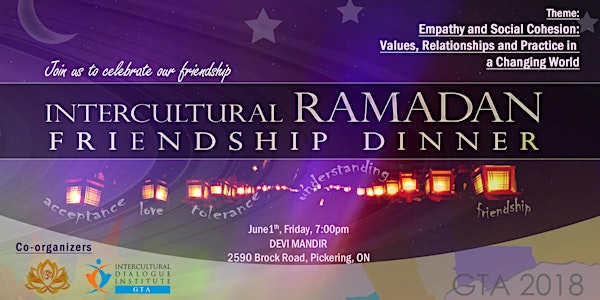 Intercultural Ramadan Friendship Dinner at Devi Mandir
When and where
Location
Devi Mandir 2590 Brock Road Pickering, ON L1V 2P8 Canada
Description
RAMADAN INTERCULTURAL FRIENDSHIP DINNER



Devi Mandir and IDI GTA kindly invite you to a complimentary Ramadan Iftar (breaking-of-the-fast) Dinner.

THEME:
Empathy and Social Cohesion:
Values, Relationships and Practice in a Changing World

SPEAKERS:
Mary Gordon, Founder/President, Roots of Empathy
Mary Gordon is recognized internationally as an award-winning social entrepreneur, educator, author, child advocate and parenting expert who has created programs informed by the power of empathy. In 1996 she created the Roots of Empathy program in Ontario. Her not for profit organization of the same name, offers programs in every province of Canada, New Zealand, the USA, the Republic of Ireland, Northern Ireland, England, Wales, Scotland, Germany and Switzerland. In 2005, Ms. Gordon created the Seeds of Empathy program for 3 to 5 year olds in child care. She is a Member of the Order of Canada, the Order of Newfoundland and is Canada's first Ashoka Fellow.
Ms. Gordon is also the founder of Canada's first and largest school-based Parenting and Family Literacy Centres, which she initiated in 1981. They have become public policy in Ontario and have been used as a best practice model internationally. Ms. Gordon speaks and consults to governments, educational organizations, and public institutions. The Nelson Mandela Children's Foundation brought Ms. Gordon to South Africa to share her parenting expertise. Ms. Gordon has also consulted with and presented to the World Health Organization, the Skoll World Forum, and the United Nations, among others.
* Program includes tour of the Devi Mandir Temple, presentations and performances. Dinner will be served at sunset.
Community Engagement Iftar(Fast-breaking) Dinners
Every year, the Intercultural Dialogue Institute GTA hosts a series of community Iftar (fast-breaking) dinners during the month of Ramadan. Iftar dinners bring together people of various faith and ethno-cultural backgrounds and serve as a means of fostering dialogue and cross-cultural awareness. They address various topics related to common teachings and values in different faith traditions and cultures. A centre piece of the event is the keynote address provided by a distinguished speaker who has relevant expertise with regards to a pressing/relevant matter of discourse.
For more information on IDI GTA Ramadan dinners, please visit: http://toronto.interculturaldialog.com/activities/ramadan-iftar-dinners.