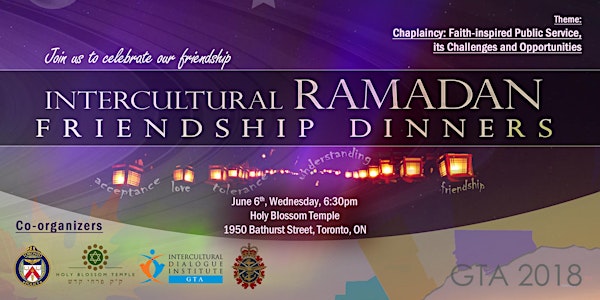 Intercultural Ramadan Friendship Dinner at Holy Blossom Temple
Location
Holy Blossom Temple
1950 Bathurst Street
Toronto, ON M5P 3K9
Canada
Description
RAMADAN INTERCULTURAL FRIENDSHIP DINNER

IDI GTA in collaboration with Holy Blossom Temple, Toronto Police Service and Canadian Armed Forces kindly invite you to a complimentary Ramadan Iftar (breaking-of-the-fast) Dinner.

THEME:
Chaplaincy: Faith-inspired Public Service, its Challenges and Opportunities
MODERATOR:
Joe Mihevc, Councillor, City of Toronto
SPEAKERS INCLUDE:
Habeeb Alli, Federal Chaplain, Correctional Services Canada
Captain Audrey Brown, Chaplain, 32 Signals Regiment
Rabbi Ronald Weiss, Director of Chaplaincy Services at Jewish Family and Child Services
*Programs includes a tour in the Temple and an introduction about Judaism.
BIOS:
Captain Audrey Brown, Chaplain 32 Signal Regiment
Audrey Brown joined the Canadian Armed Forces Reserve as a Chaplain in May of 2013. She completed her Basic Military Officer training in 2014 and complete her Basic Occupational Qualification in 2016. Since enrolling she has been a unit Chaplain for 32 Signal Regiment, a Communications Reserve unit that operates at both at Fort York Armoury in Toronto and at CFB Borden. Audrey has also spent the summer months at 4 Canadian Division Training Centre in Meaford, working with soldiers who are undergoing training.
Audrey Brown has been an Ordained Ministry with the United Church of Canada, for 24 years. She has served 5 Pastoral Charges in Alberta, and Ontario. She earned a Bachelor of Arts from Trent University in Political Science in 1991 and a Master of Divinity from Queen's University in 1994. She is currently the President of Toronto Conference.
Imam Habeeb Alli
Habeeb Alli originates from Guyana where he studied at Queen's College and graduated in India with a Masters in Islamic Theology and Arabic Language, and also a Diploma in Journalism.
Habeeb has authored eighteen titles on Islam and poetry, the latest is Red Coconut-Bridging the racial divide.

He is a member of the Canadian Council of Muslim Theologians and the Canadian Council of Imams. He is an honorary director for the Moeen Centre for Persons with Disabilities, Director at the GTA Faith Alliance and the Abraham Festival in Peterborough.

Habeeb presently serves as Community Development Manager at International Development and Relief Foundation and Federal Chaplain with Correctional Services Canada. He is the founder of the annual One Love Gala in recognition of successful reintegration of inmates.
Rabbi Ronald Weiss
Born in Boston, Massachusetts, Rabbi Ronald Weiss received his undergraduate degree from Brandeis University; a Masters degree in Jewish Education and Rabbinic Ordination from Yeshiva University. He was a pulpit rabbi for twelve years, serving congregational communities in Binghamton, New York and Longmeadow, Massachusetts.
Rabbi Weiss moved to Toronto in July, 1994, where he serves as the Director of Chaplaincy Services at Jewish Family and Child Services. As mandated by UJA Federation of Greater Toronto, he is responsible for overseeing the spiritual and religious care received by Jewish patients in 41 hospitals, Jewish residents in 55 long-term care facilities as well as Jewish inmates in 26 Ontario correctional institutions on the Federal, Provincial and Municipal levels.
Rabbi Weiss represents the Jewish community on the Ontario Multi-faith Council for Spiritual and Religious Care, on which he served for many years as a member of its Executive Board. He is the only rabbi in Toronto to carry a badge - serving as a Chaplain-at-large for the Toronto Police Service; as well he is an advisor to the York Region Police Service and works with the Royal Canadian Mounted Police. Rabbi Weiss is the chaplain of the Jewish Hospice Program and provides spiritual care and counselling to the terminally ill in the Jewish community.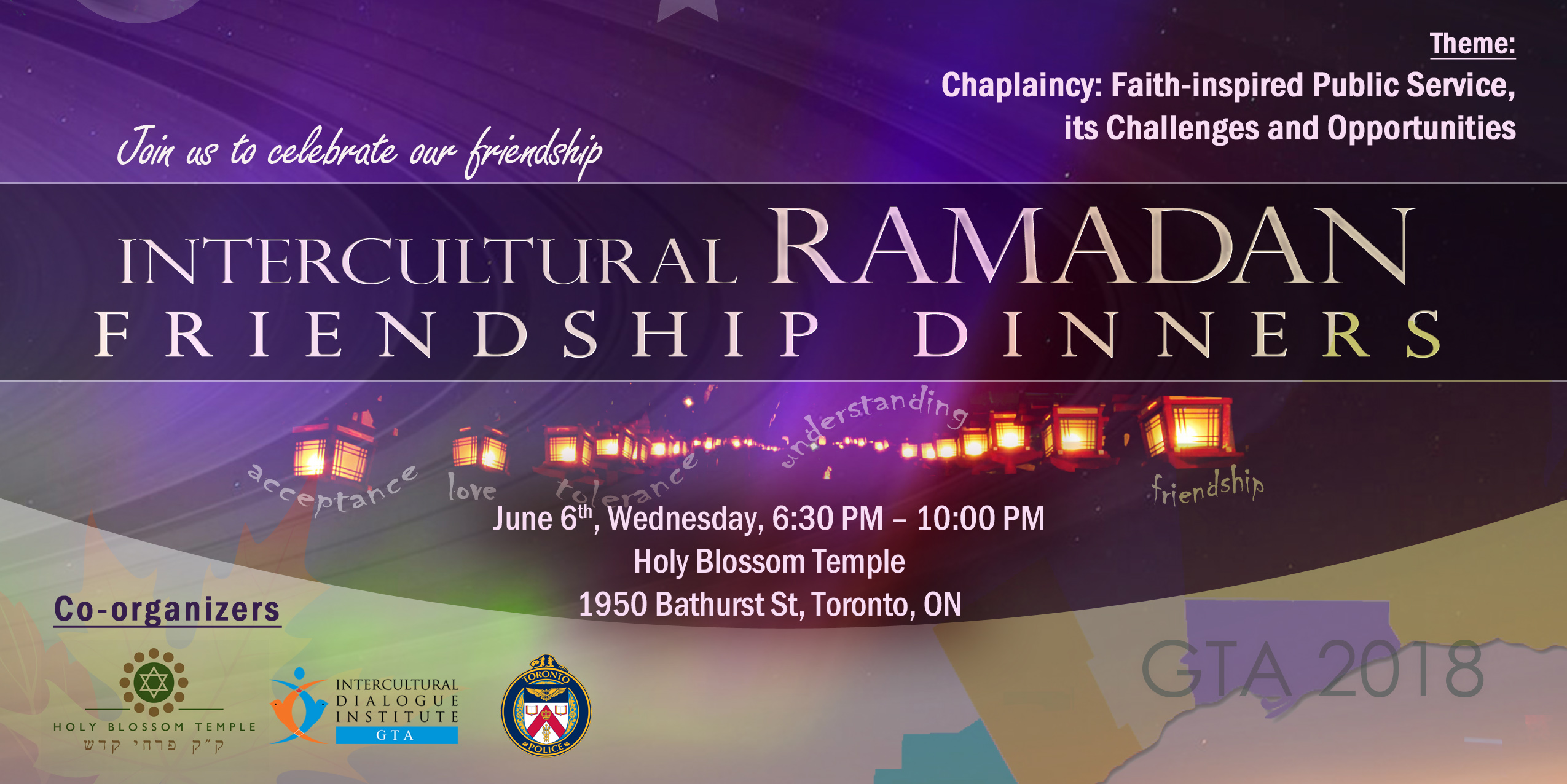 Every year, the Intercultural Dialogue Institute GTA hosts a series of community Iftar (fast-breaking) dinners during the month of Ramadan. Iftar dinners bring together people of various faith and ethno-cultural backgrounds and serve as a means of fostering dialogue and cross-cultural awareness. They address various topics related to common teachings and values in different faith traditions and cultures. A centre piece of the event is the keynote address provided by a distinguished speaker who has relevant expertise with regards to a pressing/relevant matter of discourse.
For more information on IDI GTA Ramadan dinners, please visit: http://toronto.interculturaldialog.com/activities/ramadan-iftar-dinners.