Introduction to Documentary Producing
About this event
DOC Institute is bringing back our Intro to DOC Producing (formerly Savvy Producer) to filmmakers. We are pleased to present this series in an online format for the first time, for free - making it more accessible than ever before.
This program is a great refresher for new and emerging producers, filmmakers looking to refresh producing basics, and individuals transitioning into the documentary industry. This series will be led by arts educator Chanda Chevannes and will support new and emerging filmmakers towards a better understanding of how to get their documentary films funded, made, and seen. Each of these 90-minute sessions will offer an overview of best practices for a specific aspect of documentary filmmaking.
These sessions will focus on introducing participants to local resources - including our festival partners in each area, respectively - and facilitating networking and community-building between filmmakers.
PAY WHAT YOU CAN - $10/session suggested donation per session
ZOOM LINK: you will receive a link in your Eventbrite confirmation email after you register. Please register for each session you would like to attend.
__________________________________________________________________________
Register for all the sessions:
Workshop #1: Intro to Doc Funding- Tues, Oct 13 (7-8:30pm EST)
Workshop #2: Intro to Doc Budgeting - Tues, Oct 20 (7-8:30pm EST)
Workshop #3: Intro to Doc Distribution - Tues, Oct 27 (7-8:30pm EST)
We will announce meetup registration for the following dates: Northern Ontario (Mon, Nov 2), Eastern Ontario (Tues, Nov 3) and Southwestern Ontario (Thurs, Nov 5).
Thank you to our partners: Asinabka Festival, Belleville's DocFest Film Festival, Cinéfest Sudbury International Film Festival, CIONorth, Kingston Canadian Film Festival, and the Windsor International Film Festival, and Zakide.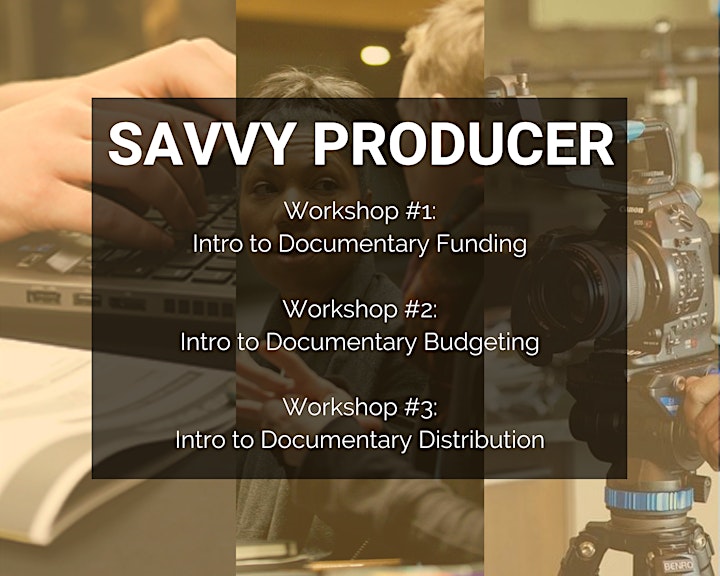 Organizer of Intro to Doc Producing
The DOC Institute develops and leads programs to help documentary-makers succeed at every stage of their careers. Offering creative inspiration and insider advice, we're a hub for the non-fiction community. At the DOC Institute, professionals of every job description, career level, and non-fiction style learn real world business skills, hone their craft and make industry connections. DOC Institute is an inititative of the Documentary Organization of Canada, Ontario Chapter.