Description
This course will introduce the fundamentals of calligraphy using a Schaefer pen. This workshop will introduce the ideal letterforms, the proper stroke sequence and direction for making letter forms, and the Petrarch Alphabet. Instruction will be provided in group and one-on-one. Participants will learn how to layout a small broadside and create a greeting card using calligraphy. Participants will take home a Schaefer fountain pen and course notes in addition to their finished projects.
This workshop is part of a new Calligraphy and Book Arts Workshop series being offered by The Art Legacy League in their new location at The JB Young Opportunity Center, Davenport, Iowa. The all day workshops will take place one Saturday a month through December in the new ALL classroom space, which is accessible. The course fee includes morning and afternoon tea break and snacks. Participants are asked to bring a sack lunch to be eaten in the workshop space.
Participants will learn the fundamental techniques in each of the areas offered and will complete at least one finished project per workshop. Instruction will be provided in group and one-on-one. Participants willtake home their completed work and course notes. Each workshop has a maximum of 12 students and pre-registration is required, so sign-up early.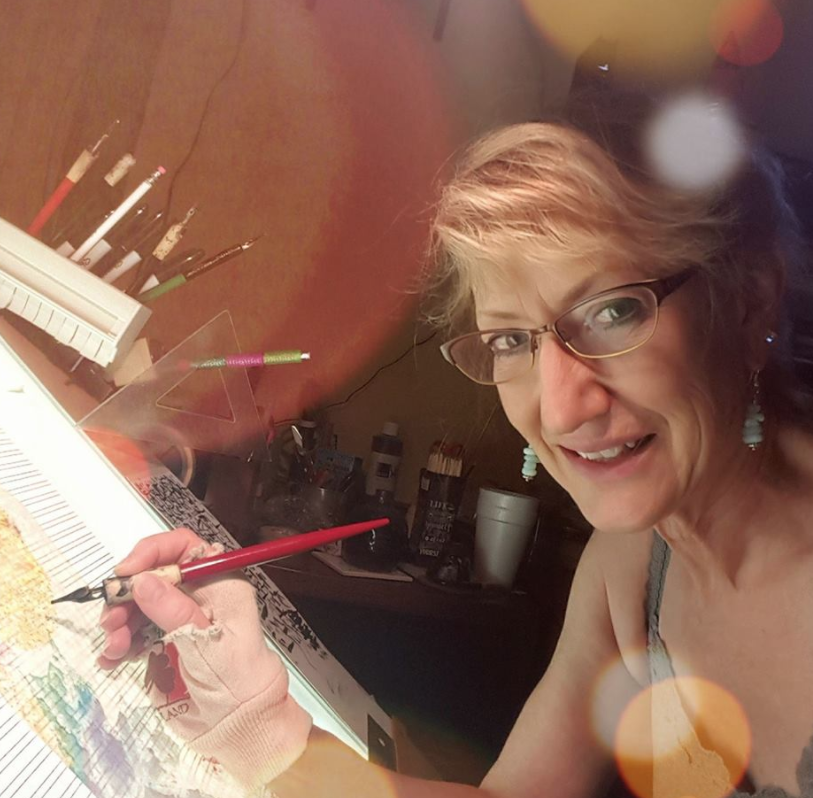 Amy says, "I am a lifelong Artist from Davenport, Iowa, with a BA in Art from SAU. I love the Art of Calligraphy and studied with Fr. E.M. Catich. My artwork includes mixed media calligraphic pieces including 23K gold gilding with watercolor and pen and ink.

Artistic design services include: calligraphy, lettering, logo design, letterhead, business card design, brochure design and production, illustration, watercolor, interior design, art instruction, sculpture and varied commercial art marketing services.

Companies I have worked for include Hallmark Cards, Crown Advertising, Quad City Times, Lockwood Manufacturing & ePower Synergies. Teaching calligraphy is a passion as I have instructed courses for SAU ACCEL, and continue to teach at The FIGGE, Clinton River Arts Center, Bettendorf, IA and Moline, IL Libraries, as well as other venues in the Quad City area. Inspiration for my art comes from nature. Many own my calligraphic work because they appreciate the artistic design and the message meaning something special to them in their lives.

I am a founding Board of Directors member for The Art Legacy League and a CORE FACULTY, The Catfish Letter Arts School. "
You can see more of her work on her website by clicking HERE.
The non-refundable Registration Ticket price includes the $50 workshop fee + $20 materials fee + Eventbrite processing fee. If for any reason the workshop is cancelled, all fees will be refunded.
PLEASE SELECT the registration ticket for your preference, LEFT HAND or RIGHT HAND pen.
Participants will take home their completed work, calligraphy pen and course notes..
The instructor reserves the right to cancel the workshop if enough registrations are not received.
Date and Time
Location
JB Young Opportunity Center & Art Legacy League Offices
1702 N Main St
Davenport, Iowa 52803
Refund Policy