Introduction to Making Fine Art Papers
Sales Have Ended
Ticket sales have ended
Thank you for your interest in the Making Fine Art Papers workshop. We will be in touch with you if a spot opens up for this workshop, and will email you to let you know when the next workshop in this area will be offered. Peace, Nancy
Sales Have Ended
Ticket sales have ended
Thank you for your interest in the Making Fine Art Papers workshop. We will be in touch with you if a spot opens up for this workshop, and will email you to let you know when the next workshop in this area will be offered. Peace, Nancy
Description
This workshop will introduce the novice to the techniques and materials used in making Fine Art papers for use in hand book-binding, calligraphy projects, card making and box making.
Participants will be introduced to the fundamentals of making hand-made paper, hand-marbled paper and hand-made paste papers. Participants will learn how to make paper pulp using recycled paper and paper pulp sheets, how to form the sheet using a deckle and mould, and how to make poured paper sculptured sheets with additions.
Instruction will also be given in the fundamentals of forming marbled paper patterns, Suminagashi marbling, and making Simple Starch Paste for making paste papers. Participants should be prepared to bring an apron and notebook for taking notes. Participants will make approximately 25 sheets of paper to take home along with their course note handout.
The Instructor for this workshop will be Nancy Anderson Trottier, a former student of Father Catich. Trottier is an internationally recognized book arts instructor who specializes in making artists' books, letterpress collage prints, and calligraphic broadsides using her own handmade papers, hand marbled papers, and handmade paste papers. Trottier is a codicologist, earning her MA in art history from the University of Iowa, specializing in the history of 16th century French printing. She is a former Newberry Library Consortium Fellow and is currently conducting two independent research projects on the Hardouyn Press for The Library of Congress and The Kislak Center for Special Collections and Rare Books at The University of Pennsylvania.
You can read more about her on her website, ducksinarowpress.com.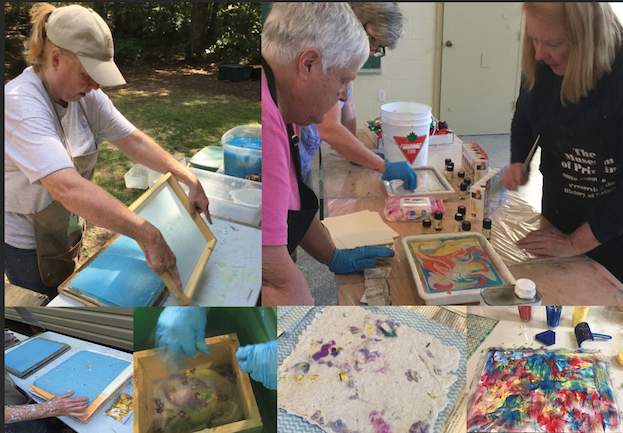 (Above, Nancy making handmade paper, teaching the fundamentals of marbling paper, and samples of couched handmade paper sheets, a poured papermaking mould, sample of poured paper with inclusions, and past paper with colour applied before manipulation.)
This workshop is part of a new Calligraphy and Book Arts Workshop series being offered by The Art Legacy League in their new location at The JB Young Opportunity Center, 1702 N Main St, Davenport, IA 52803.
The all day workshops in the Fall 2017 series will take place one Saturday a month through December in the new ALL classroom space, which is accessible. The course fee includes morning and afternoon tea break and snacks. Participants are asked to bring a sack lunch to be eaten in the workshop space.
Participants will learn the fundamental techniques in each of the areas offered and will complete at least one finished project per work shop. Instruction will be provided in group and one-on-one. Participants will take home their completed work and course notes.
Each workshop has a maximum of 12 students and pre-registration is required, so sign-up early.
The non-refundable Registration Ticket price includes the $50 workshop fee + $20 materials fee + Eventbrite processing fee. If for any reason the workshop is cancelled, all fees will be refunded.
The instructor reserves the right to cancel the workshop if enough registrations are not received.