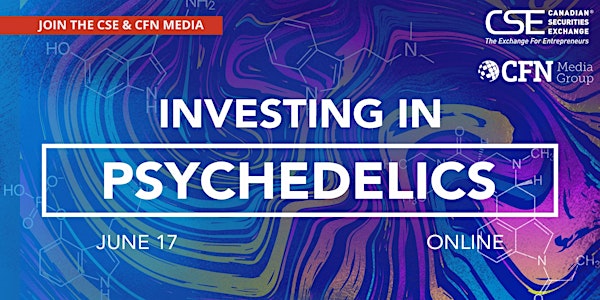 Investing in Psychedelics
The CSE, and CFN Media, invite you to Investing in Psychedelics, an event highlighting psychedelics as an emerging capital market sector.
About this event
REGISTRATION CLOSES AT 12PM EDT TODAY!
The CSE is getting psychedelic! Along with CFN Media, we are proud to invite you to Investing in Psychedelics on June 17th from 11 AM - 3 PM (PDT). We will be fielding a world-class panel of industry experts and individuals on the cutting edge of this emerging market to highlight psychedelics and their place in the capital market.
Learn about up-and-coming companies in the private and public sectors that are paving the way for the industry with their innovative applications. Attendees will hear from experts in the brokerage and banking world about where to find investment opportunities and what due diligence looks like when it comes to the psychedelics market.
Prior to the event, we will release weekly one-on-one video interviews with industry thought leaders, starting on May 28th. Viewers will get the 101 on psychedelics, their potential applications, and the current state of their legal consumption in medical and recreational environments.
Today's Event Agenda & Access Links
11:00 am PDT / 2:00pm EDT
Panel #1 – Psychedelics and the Capital Markets
Featuring: Aaron Weaver, Bill O'Hara, Henri Sant-Cassia, Josh Lawler, Anna Serin (mod)
12:00pm PDT / 3:00pm EDT
Panel #2 – Psychedelics on a Molecular Level: Pharma-Grade R&D
Featuring: Danny Motyka, Michael Frank, Sher Ali Butt, Anna Serin (mod)
12:45pm PDT / 3:45pm EDT
Panel #3 – Therapeutic Applications of Psychedelics
Featuring: Ian McDonald, Timothy Ko, Dr. Roger McIntyre, Ronan Levy, Anna Serin (mod)
1:30pm PDT / 4:30pm EDT
Panel #4 – Mushroom-Based Formulations and Consumables
Featuring: Derrick Welsh, Mike Arnold, Anna Serin (mod)
2:15pm PDT / 5:15pm EDT
Panel #5 – The Future of the Retail Market
Featuring: Carl Saling, Daniel Cohen, Jeff Stevens, Todd Shapiro, Anna Serin (mod)
3:00pm PDT / 6:00pm EDT
Panel #6 – How Technology Will Impact the Industry – ACCESS PANEL 6 HERE
Featuring: Ben Nikolaevsky, Fabio Chianelli, Nikolai Vassev, Anna Serin (mod)
Who You Will Hear From at Investing in Psychedelics
A full afternoon of panel discussions amongst bankers, thought leaders and participating companies.
Bankers / Brokers
Private Companies
Public Companies
Micro Sessions Agenda
Each week registrants will receive links to one-on-one video interviews with thought leaders in the psychedelics space, offering insights into the history, applications, and future of the sector.
May 28th
Richard Carleton, CEO of the Canadian Securities Exchange, discusses this emerging sector and how to navigate it through listings and the capital markets.
Bruce Linton, Chairman of the Advisory Board for Red Light Holland Corp. (CSE:TRIP), discusses the space and its opportunities.
June 3rd
Dr. Dennis McKenna, Director of Ethnopharmacology at the Heffter Research Institute, provides an in-depth overview of the history of psychedelics.
Dr. Roger McIntyre, CEO of Champignon Brands (CSE:SHRM), gives an in-depth preview to the application of psychedelics and their therapeutic uses.
Dr. Nikos Apostolopoulos,  CSO of AlphaMind Brands, talks about therapeutic applications and AlphaMind's recent acquisition by Hollister Biosciences (CSE: HOLL).
June 10th
CEO clips from each participating company showcase the pioneering work they're doing in the world of neuro-pharmaceuticals.
Also, check out our event Virtual Industry Updates: The Rise of the Psychedelics Sector in partnership with MNP LLP and Aird & Berlis LLP coming up on June 10th.