About this Event
MUSIC + DOOR-DELIVERED CULINARY TREATS + AFTERPARTY
"There's not another event like it on the summer calendar in Vancouver." — The Georgia Straight
PERFORMANCE PATRON: EAST INDIA CARPETS
For those of you who've been missing our legendary art-filled parties, we've put an online version together that comes as close as you can to the real thing (yes, food as well!). This is going to be an evening of magic on many levels.
We'll start with a concert featuring some of the most gifted musicians in our part of the world. Experience a roster of outstanding musicians specially curated by Jarrett Martineau, host of the award-winning show 'Reclaimed' on CBC. This part of the evening can be experienced for free by registering and listening/dancing along on our Facebook page or YouTube channel.
To unlock the party level (which features a home-delivered multi-course menu by award-winning Chef Tushar of Indian Pantry), you'll need to buy a ticket. The ticket also gives you exclusive access to our Zoom room afterparty, where guests will turn their screens on and see each other – so that you can bump into old friends and make new ones. The afterparty features DJ sets and surprise special guests from all over the world. So put those pyjamas away and dress up – you'll be seen, we'll all be dancing. Let's send off Indian Summer Festival's 10th Anniversary edition in style!
Featured Artists:
Jarrett Martineau
Chef Tushar
DJ Lil India
Featured Menu | Vegetarian or Non-Vegetarian (includes fish and chicken):
SWISS CHARD PATRA (GUJRAT) - crispy swiss chard roulade topped with coconut curry leaf tadka
DAHI BARA (ODISHA) - urad dal flitter soaked in buttermilk topped with spices yogurt & tamarind chutney
PATRANI MACHI (MUMBAI) - steamed fish marinated in coconut & mint chutney wrapped in banana leaf
OR
VEGAN MOMOS (HIMACHAL PRADESH) - handmade steam dumpling filled with soy meat & green onion
MALVANI CHICKEN (MALVAN) caramelized onion and coconut sauce served with fermented rice pancake
OR
MALVANI EGGPLANT (MALVAN) - Eggplant cooked in peanuts and coconut gravy along with malvani spice served with rice pancake
GAJAR KA HALWA (PUNJAB) - grated carrot cooked in milk solids topped with dry fruits
SHRIKHAND (MAHARASHTRA) - flavoured hung yogurt served with mango
*The multi-course dinner box will be delivered within the specified zones below. See map below or click here to see a larger image of the map. (You may also purchase this option and have your box donated locally to someone in need.) Register by Thursday, July 16, 2020 at 9AM. Deliveries will be made day-of-event Saturday, July 18 between 1pm and 6pm to addresses in Vancouver + 5km.
Delivery zones:
Vancouver: All locations
Burnaby: Hastings Corridor up to Sperling Avenue; Lougheed Corridor up to Sperling Avenue; Kingsway Corridor/ West and South of Deer Lake Park
New Westminster: All locations
Surrey/ North Delta: Surrey City Centre ; Guildford Town Centre; King George Corridor up to 64th Ave; Scott Road/ 120th Street Corridor up to 64th Ave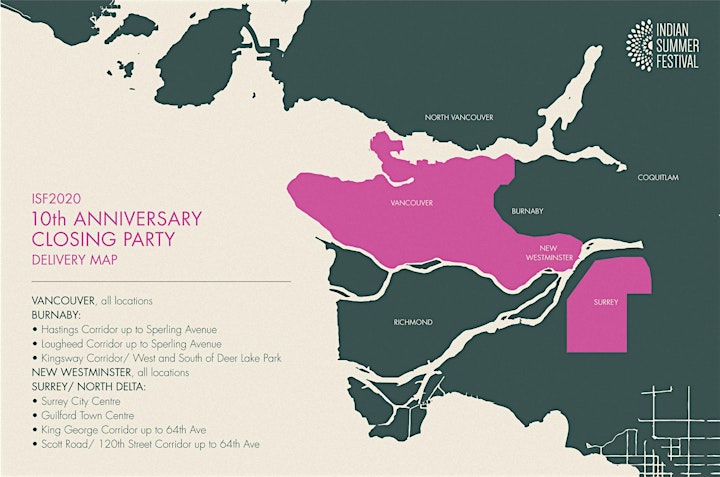 Accessibility information: This event will be live-captioned on all platforms.
About Indian Summer Festival
ISF is committed to continuing programming in the virtual world during the COVID-19 pandemic. We strive to bring our customary care and quality to our work, and ensure that artists, vendors and team members are safe and paid fair wages. Your support in this time helps us to keep the arts alive. Please consider making a donation: www.indiansummerfest.ca/supporter/
Find out more at www.indiansummerfest.ca
Hospitality Partners: The Indian Pantry, Nanak Foods
Indian Summer Festival is made possible thanks to the wonderful support of: