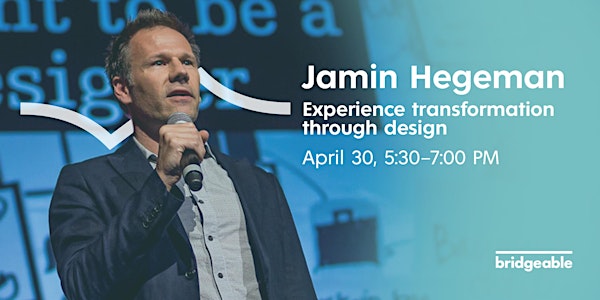 Jamin Hegeman: Experience transformation through design
A talk on instilling design in a large corporate enterprise to transform the culture and deliver the services customers expect
Date and time
Thu, Apr 30, 2020 5:30 PM - 7:00 PM EDT
Location
Bridgeable 1179 King Street W #101 Toronto, ON M6K 3C5 Canada
About this event
Jamin Hegeman (VP Design, Capital One) will discuss the journey of a large enterprise creating an experience mindset and transforming the culture in order to deliver the services customers expect and organizations require.
At Capital One, as the Head of Experience Strategy, he is responsible for building design capabilities for a 500+ person design organization and transforming the culture of one of the largest and most visibly design-centric financial services firms. He has worked with various businesses, including home loans, auto loans, investing, small business, and the Capital One Cafes.
Jamin Hegeman is a leader in the global Service Design movement. In his role as vice president of the Service Design Network he has been a vocal advocate for the discipline of design.
He has helped the Service Design Network grow and influence thousands of designers and business leaders around the world through his leadership of the annual global conference. His work and ideas have appeared in the books This Is Service Design Thinking and This Is Service Design Doing. He will be joining us at Bridgeable to share his experience.
About the organizer
At Bridgeable, our mission is to bridge the gap between what organizations know and what they do. We do this by translating deep human insight into the design of valuable products, services, interactions and experiences. Our multidisciplinary team collaborates with organizations to identify unmet needs and market opportunities and to shape those insights into tangible product, service and experience innovations. Our approach is deeply grounded in human insight and emphasizes rapid prototyping and user testing as a means of developing truly desirable designs.