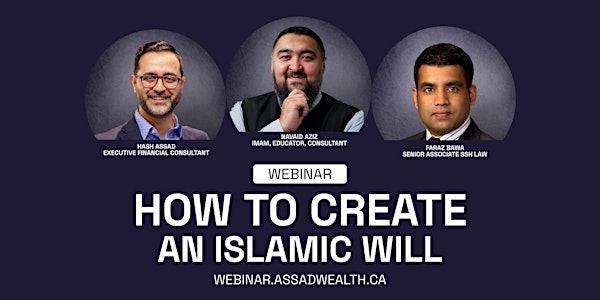 Jan 2023 - How to create an Islamic Will - Webinar
Let's talk about how to make sure your property, assets, & money are distributed to your loved ones in an Islamic manner after your death.
By Hash Assad and Sh. Navaid Aziz
Date and time
Thu, Jan 26, 2023 5:00 PM - 6:30 PM PST
About this event
As-salamu Alaykum,
Prophet Muhammed (PBUH) said: "It is not permissible for any Muslim who has something to will to stay for two nights without having his Last Will and Testament written and kept ready with him."
Making a will ensures that your property, possessions, and money are distributed to the people you choose after your death. The process is a bit like creating a set of instructions for how you would like your assets to be handed over, allowing you to control who should receive them upon your death. It means you can avoid the costly court fees and delays that come with those who die intestate. You will also have peace of mind knowing in the event of your death the people you love are protected and all important decisions are made while you are still alive.
Join us for an online webinar on "A Step-by-Step Guide to creating Your Islamic Will," which includes a free Will Kit
Topics of discussion:
What happens if you die without a will in Canada
The importance of Estate Planning in Islam
How to create an Islamic Will ( Will Kits will be provided free of charge )
Who will inherit what?
Who will Be Your Beneficiaries?
What's the difference between a will and a power of attorney?
When should you change your will?
Who will you select as an executor?
Who will you name as a guardian for dependent children or disabled adult children?
Questions and Answers
About the organizer
Assad Wealth Management
At Assad Wealth Management, our mission is to provide comprehensive financial advice that will help you grow and sustain your wealth. With a focus on high-net worth individuals and families, we provide personalized solutions and tailor our approach to every client's unique circumstance and objectives. From our initial meeting through to retirement and legacy planning – we'll ensure your plan aligns with your values and adapts to life's journey, so you can achieve your goals with confidence and peace of mind.
Sh. Navaid Aziz
Navaid Aziz is a Canadian Muslim public figure with a diverse academic and social background. He was raised in Montreal, Quebec where he completed a diplome d'etudes collegiales (D.E.C.) in commerce and Social Sciences from Champlain College before heading to the Islamic University of Madinah where he completed an Associates Degree in Arabic Language and Literature and Bachelors in Islamic Law. He currently serves as the director of Religious and Social Services at the Islamic Information Society of Calgary