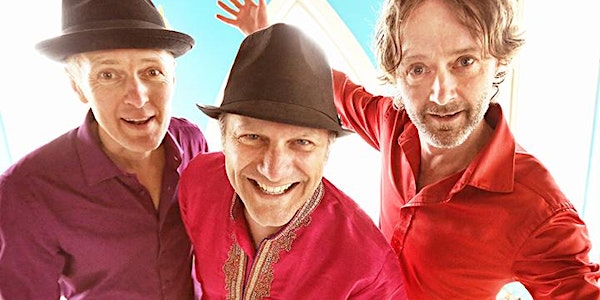 Jan 23 - Sultans of String Interactive Zoom Concert #5- Best of the Sultans
Best of the Sultans Edition. Let's super-spread some good live-streaming vibes and keep connected. Isolating doesn't have to be lonely!
Refund Policy
Contact the organizer to request a refund.
Eventbrite's fee is nonrefundable.
About this event
Featured on the NY TIMES HITS LIST!
Hit #6 on the BILLBOARD WORLD MUSIC CHART!
Let's super-spread some good live-streaming vibes and keep connected during this lockdown. Sultans of String band members Chris McKhool, Kevin Laliberté and Drew Birston perform the "Best of the Sultans", beamed right into your living room! Eddie Paton and Rebecca Campbell will also join us for songs from their musical lairs, and Tamar Ilana will join us with her flamenco dancing!
This is over ZOOM, which is awesome because it is interactive, and we will be able to see and hear you, and you can see and hear us, and you can all see each other as well! It is a real show!
So pour yourself a quarantini, and get ready to enjoy the music!
Link becomes live at 7:40 pm to get settled and chat with our friends. And make sure you have speakers plugged in if you have them!
Show will last about an hour, including a talk back portion, so bring your burning questions, as we will be opening up the floor for anyone who has always wanted to ask any of the artists about their inspiration, or music, or whatever strikes your fancy.
We have kept the ticket price low with a minium $10 donation for the show, as many of our friends and fans are out of work right now. Please contribute what you can to support the arts through these strange times!
$1 from each ticket sold is being donated to our UN Refugee Agency fundraiser: http://fundraise.unhcr.ca/sultansofstring
Thanks and look forward to seeing you all soon!
https://sultans-lockdown-smackdown.eventbrite.ca
FEEDBACK FROM PREVIOUS ZOOM CONCERTS:
"Sultans of String are still ground-breaking after all the decades. The music is of-this-moment, our moment. It is a tonic, fresh air, in the midst of all that has separated us."
"It was so intimate. Every seat was perfect, front row centre. It's a great way to establish personal connections with the artists."
"This was the best Zoom – online show I have seen. The setting and production values were excellent. It was obvious that time was taken to ensure us of a completely professional concert. Loved the music – hope there are more to come."
"Wow! What a special evening of song, storytelling, dance and palpable heart-sharing! I was amazed at the coordination it must have taken to connect everyone, and was moved by having so much artistry connected in a "zoom-room"….just wow….what a joy!🎶🎸🎵🎻💃"
"It was great to have live music come right to our homes. The band played amazing music! The sound quality was wonderful. Hope to hear more live music from Sultans of String, soon."
BIO:
Three-time JUNO Award nominees and Billboard charting band Sultans of String creates "energetic and exciting music from a band with talent to burn!" according to Maverick magazine. Thrilling their audiences with their genre-hopping passport of Celtic reels, flamenco, gypsy-jazz, Arabic, Cuban and South Asian rhythms, the group celebrates musical fusion and human creativity with warmth and virtuosity. Fiery violin dances with rumba-flamenco guitar, while bass lays down unstoppable grooves. Acoustic strings meet with electronic wizardry to create layers and depth of sound, while world rhythms excite audiences to their feet with an irresistible need to dance.
Sultans of String have never taken the easy road. Since releasing their debut album Luna in 2007, they have continually strived to make each chart-topping album more original and meaningful than the last. That includes working with an orchestra (2013's Symphony), teaming with Pakistani sitarist Anwar Khurshid (2015's Subcontinental Drift) and even crafting a world-music holiday album (2017's Christmas Caravan), which landed them on the Billboard charts and the New York Times. Their ambition and work ethic have garnered them multiple awards and accolades, including three Juno nominations, first place in the International Songwriting Competition (out of 15,000 entries), three Canadian Folk Music Awards, and countless other honours.
With their historic and visionary seventh album Refuge, McKhool and co. bring their unique brand of musical synergy and collaboration into the studio like never before. Their most ambitious, diverse, inclusive and passionately political album, Refuge puts the Toronto-based Sultans face-to-face with a VIP roster of artists from around the globe — including American banjo master Béla Fleck, Israeli vocalist Yasmin Levy and others, like Iraqi violinst Imah Al Taha and Iranian santur master Amir Amiri, who have fled the peril and persecution of their homelands for the safer shores of North America.
Their live resumé is similarly stellar. Equally at home in a concert hall, jazz club or festival setting, the Sultans have gigged at the legendary club Birdland in New York, the renowned Celtic Connections Festival in the U.K. and the San Jose Jazz Festival. They have performed with symphonies across Canada and the U.S., and played live on BBC TV, Irish National Radio, World Cafe and SiriusXM in Washington.