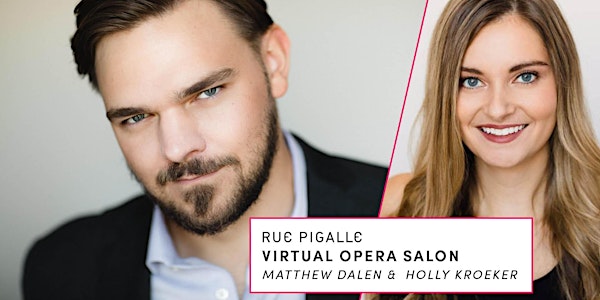 Join us for a virtual opera salon with Matthew Dalen and Holly Kroeker
DRESSED UP WITH SOMEWHERE TO GO! Join us for a virtual opera salon with Against the Grain Theatre artists Matthew Dalen and Holly Kroeker.
About this event
Rue Pigalle is pleased to partner with Against the Grain Theatre to invite you to an inspiring private opera salon with tenor Matthew Dalen and pianist Holly Kroeker, who will be performing from their home. The ATG artists have chosen pieces, which they describe as "musical medicine for the heart."
"We have curated an evening of songs and arias that fill our hearts with joy," says Holly. "In isolation it is more important than ever to nourish our hearts and re-energize our spirits. These selections deal with love, infatuation, money, fear, loneliness, and incredible joy. They vary from sentimental and profound to sweetly funny. In times like these, we are all reflecting and taking stock of our lives. We hope that this recital will help you face tomorrow with your chin up, spirits high, and eyes on the future."
So, put on your finest, mix up our special quarantine cocktail and we shall clink glasses with you on April 24, at 7:30 pm EST.
Established in 2010, Against the Grain Theatre is an award-winning Canadian opera company committed to revitalizing the operatic art form by presenting an eclectic array of musical works in unconventional spaces and innovative ways. With a mandate to perform fresh, daring re-interpretations of classical repertoire, we perform in unconventional spaces to create a thrilling, intimate, unforgettable experience shared between our artists and audiences.