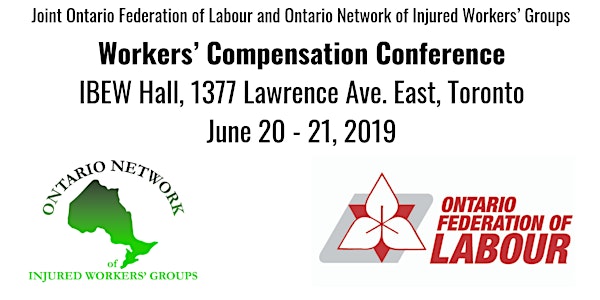 Joint OFL and ONIWG Workers' Compensation Conference
When and where
Location
IBEW Hall 1377 Lawrence Ave. East Toronto, ON M3A 3P8 Canada
Refund Policy
Refunds up to 1 day before event
Description
The OFL & ONIWG are sponsoring an exciting Workers' Compensation conference, June 20 and 21 at the IBEW Local 353 Hall in Toronto. The purpose of this conference is to inform our activists and advocates, to review and reinvigorate the Workers Comp is a Right campaign, to work with our system partners to make the compensation system fairer for injured workers and to support collaboration with labour and the injured worker community to achieve these goals.
Registration is $200, with no charge for ONIWG member group delegates. The fee is payable online or by cheque to Injured Workers Community Legal Clinic, who is taking care of conference administration. Cheques can be mailed to 411-815 Danforth Ave. Toronto, ON M4J 1L2.
The conference will be held at the IBEW Local 353 Hall, Toronto. A block of rooms has been reserved at the Toronto Don Valley Hotel and Suites, 175 Wynford Drive and will be held until May 21, 2019 , at a rate of $ 145.00 single or double occupancy. To reserve a room contact Toronto Don Valley Hotel & Suites 175 Wynford Drive Toronto, Ontario M3C 1J3 Tel: 416-449-4111 Toll Free Reservation: 1-877-474-6835
DRAFT AGENDA:
Thursday June 20th
8:30 a.m. Registration
9:00 a.m. Opening Remarks
9:30 a.m. The Widows of Asbestos
A special preview of the documentary on the Peterborough GE Workers by Natasha Luckhardt
10:30 a.m. break
10:50 a.m. Lessons Learned in the Fight for Victims of Occupational Disease
Panel:
Natasha Luckhardt, filmmaker
Bob DiMatteo, Peterborough G.E. Workers Activist
Janice Martel, McIntyre Powder Activist
Sylvia Boyce, USW Kitchener Rubber Workers Cluster Activist
12:00 p.m. Lunch – provided
1:00 p.m. Workshops – choose one
Workplace Mental Health Injury Claims
Erin Doucette, Prevention Link. The workshop is ideal for workers' compensation representatives who have some case work experience and are looking to gain more knowledge on mental health injury claims. It offers a better understanding of mental health and illness, stigma and discrimination, and how conditions are diagnosed and what treatment options are available. It explores which mental health injuries are covered by WSIB policy and law, how such claims are adjudicated, and applicable legal principles. We will conclude with a review of case law examples, sample medical reports and group discussion
Mental Health 101
Dr. Wendy Stanyon, Prevention Link. Mental illness is considered the number one cause of workplace disability in Canada. Yet, stigma around the topic is a key reason why many Ontarians don't talk about mental illness in their workplaces. This half-day workshop is your chance to become more informed and talk more openly about mental health in the workplace.
Participants will learn how to promote a greater understanding of occupational mental health and illness. The discussion includes a demonstration of Mindsight, an online educational resource to reduce stigma by promoting awareness of mental illness, and facilitating a greater understanding of basic strategies and resources for supporting individuals experiencing a mental health challenge..
.
Accommodation Law
Jody Jones, Prevention Link – The workshop focuses on the most frequently cited ground of discrimination that is disability. It looks at how disability and the duty to accommodate plays out with particular emphasis on employment. This workshop will help participants recognize rights, obligations and principles of accommodation (respect for dignity, individualization, integration and full participation).
2:30 – 2:50 break
4:15 p.m. The 2019 WSIB Review – plenary session
5:00 p.m. Adjournment
Friday June 21st
9:00 a.m. Welcome
9:15 a.m. Underreporting Workplace Deaths in Canada
Steve Bittle, Associate Professor of Criminology, University of Ottawa
10:15 a.m. What Can we do About this?
Panel:
Vern Edwards, Health and Safety Director, OFL
More TBA
10:45 a.m. break
11:00 a.m. Workers Comp is a Right Campaign – Labour and Injured Workers Working Together
Willy Noiles, President, ONIWG
Aidan Mcdonald, Campaign Co-Ordinator, IWC
12:30 p.m. Conference concludes