About this Event
Join us for a journey that transforms you, restores you, inspires you: the best 2 weeks of your life.
Taize is a Christian community which attracts thousands of young people every week, from all around the world. Many are Christian, and many don't know what they believe. Everyone is welcome at Taize.
Spend a week making friends with people from many different languages and cultures. Discover more about yourself, and explore what is most important to you. Meet a God of love and compassion in the beauty of silence and song.
Then spend 5 days with us in Paris, the most beautiful city in the world.
Afterward, if you want to travel on your own, we can offer flexible return dates on your ticket.
REGISTRATION OPENS DECEMBER 15!
Register before January 24 to save $600 off your ticket.
Spaces for adults aged 31-35 are limited. Register early.
FEES:
$250 non-refundable deposit when you register
$1,000 due on the last Friday of March: March 27, 2020
Balance due on the last Friday of April: April 24, 2020
Lump sum payments are also available.
Organized by the Anglican Diocese of Calgary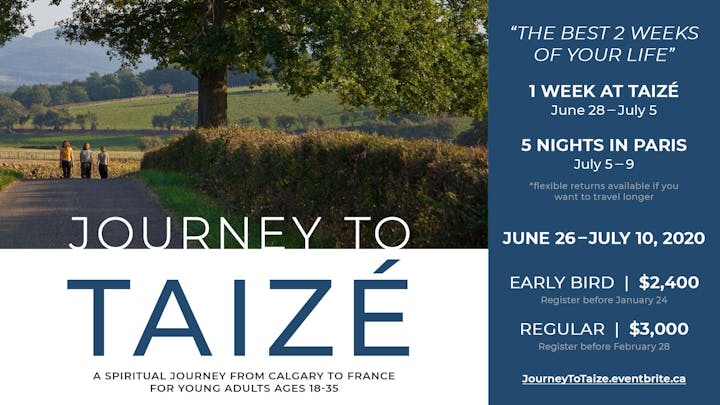 Your fee includes:
Flights from Calgary to Paris and return on the dates specified. Flexible return dates can be arranged with the travel agent after registering; any change in costs associated with flexible return is not included in your fee.
Hostel in Paris on June 27, and July 5-10. Simple breakfast is included at the Hostel.
Transportation to and from Taize
Accommodations, meals and program costs at Taize
Paris transit pass and Museum Pass
Your fee doesn't include:
Any change in costs to your flight related to flexible return dates.
Travel medical insurance (required). You must provide proof of insurance before you travel. You can get this from many providers, for instance AMA, many banks, Alberta Blue Cross. Check online for options.
Spending money in Taize and Paris. In Taize you may like 20-50 euros for spending during the week. In Paris, what you want to spend on shopping is up to you!
Lunches & suppers in Paris. You'll be most comfortable if you budget at least 20 euros per day (for 5 days) for food in Paris. The last night we'll have a special meal for which you'll need 30 euros.
TERMS & CONDITIONS:
All funds are in Canadian Dollars. Fees are paid on a schedule, and are non-refundable once each deadline passes. $250 non-refundable deposit at time of registration. $1,000.00 2nd deposit due by March 27. Final balance due by April 24. For those who wish to pay in a lump sum, refunds shall be issued as follows: Full amount less $250.00 if notice is received before March 26 2020. Full amount less $1,250.00 if notice is received from March 27 to April 23, 2020. No refund if notice is received on or after April 24, 2020. You must be at least 18 years of age as of June 1, 2020 and you must not turn 36 before July 6, 2020 to participate in this event. Spaces for adults aged 31-35 are limited. Organizers reserve the right to limit and refuse participation without giving any reason thereof. In the case that a registration is refused, the participant's deposit will be refunded in full.
About the organizer:
The Rev. Clara King is an Anglican Priest in the Diocese of Calgary. She first went to Taizé as a very young adult in 2005 and has been back countless times. She's led or co-led pilgrimages to Taizé for youth, young adults and older adults; though young adults are her favourite group to take! She was a Permanent (live-in volunteer) at Taizé in 2007; went to the Taizé Meeting in Nairobi in 2008, and to the Taizé Meeting at Pine Ridge Reservation in South Dakota in 2012. In 2019 she organized for Brother Emile to come to Calgary - the first time the Brothers had been to Calgary since the 1970s. And now she's the coordinator for Taizé YYC, a monthly non-denominational Taizé prayer in Calgary which started in October 2019.