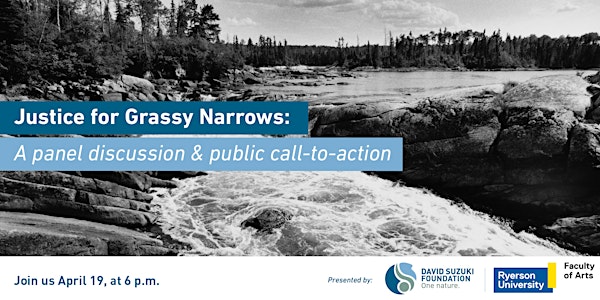 Justice for Grassy Narrows: Panel Discussion & Public Call-to-Action
Event Information
Location
Bond Place Hotel Toronto
65 Dundas Street East
Toronto, ON M5B 2G8
Canada
Description
For half a century, mercury contamination of the English-Wabigoon watershed has poisoned the people and ecosystem of Grassy Narrows.
After years of activism led by Grassy Narrows residents, Ontario committed $85 million in 2017 to clean up this "gross neglect" and Canada has committed to building a mercury poisoning care home in the community. But much remains to be done to help Grassy Narrows rebuild their health, culture and livelihood.
Join us on April 19 for a compelling panel discussion moderated by Hayden King and featuring scientist and broadcaster David Suzuki, Grassy Narrows elder and mercury justice advocate Judy Da Silva, and author / academic Leanne Betasamosake Simpson. Mississaugas of the New Credit elder Peter Schuler and the Little Eagle Feather traditional drum group will provide the evening's welcome ceremony.
What: Panel discussion and public call for social and ecological justice for Grassy Narrows
When: Thursday, April 19 – 5:30-8:00 p.m. ET
5:30 – Networking (light local fare and beverages will be served)

6:00 – Formal program
Where: Bond Place Hotel Toronto, 65 Dundas Street East
Please RSVP and direct any questions to Paula Hill at phill@davidsuzuki.org. (A small number of tickets have been set aside for individuals / groups requiring financial assistance to attend. Please email Paula Hill for further information.)

Speakers

David Suzuki is an award-winning scientist and broadcaster and co-founder of the David Suzuki Foundation. He has become familiar to audiences through his work on the long-running CBC programs Quirks and Quarks and The Nature of Things. He is widely recognized as a leader in sustainable ecology and has received numerous awards for his work, including a UNESCO prize for science. He is also a Companion of the Order of Canada. For his support of Canada's Indigenous peoples, David Suzuki has been honoured with eight names and formal adoption by two First Nations.
Judy Da Silva is an elder at Grassy Narrows First Nation and a mercury justice advocate. She is also a mother to five youth, each of whom inspire her to find solutions to the mercury poisoning of the English-Wabigoon watershed and Mother Earth. She is a recent recipient of the Michael Sattler Peace Prize in Germany and the Human Rights Watch Award in Toronto in recognition of her lifelong commitment to protecting the environment through nonviolent direct action. Judy lives in Grassy Narrows and suffers from the effects of mercury poisoning in a mild form. She works in her community's band office as environmental health coordinator.

Leanne Betasamosake Simpson is a renowned Michi Saagiig Nishnaabeg scholar, writer and artist and a member of Alderville First Nation. She has been widely recognized as one of the most compelling Indigenous voices of her generation. Leanne's books include Dancing on Our Turtle's Back, The Gift Is in the Making and most recently, As We Have Always Done: Indigenous Freedom Through Radical Resistance. As a writer, Leanne was named the inaugural RBC Charles Taylor Emerging Writer in 2014. She is a faculty member at the Dechinta Centre for Research & Learning in Denendeh (NWT) and a Distinguished Visiting Scholar in the Faculty of Arts at Ryerson University.

Hayden King is Pottawatomi and Ojibwe from Beausoleil First Nation on Gchi'mnissing (Christian Island) in Huronia, Ontario and a faculty member in the Department of Politics at Ryerson University. He is among the most noted Indigenous public intellectuals in Canada, frequently contributing to the national conversation on Indigenous issues. Hayden is also the co-author of Canada's North: What's the Plan? and the co-editor of The Winter We Danced: Voices from the Past, the Future and the Idle No More Movement. Hayden has served as governance consultant to First Nations in Ontario, the Senior Policy Adviser to the Ontario Minister of Natural Resources and Aboriginal Affairs and Director of Research at the Canadian Council for Aboriginal Business.
Date and time
Location
Bond Place Hotel Toronto
65 Dundas Street East
Toronto, ON M5B 2G8
Canada
Refund policy