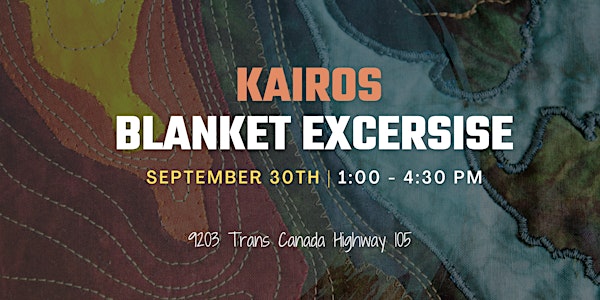 KAIROS Blanket Exercise
Join us September 30th for the KAIROS Blanket Exercise! An event to celebrate the first National Day for Truth & Reconciliation.
By Impact Organizations of Nova Scotia
When and where
Date and time
Thu, Sep 30, 2021 1:00 PM - 4:30 PM ADT
Location
Mawita'mk Society 9203 Trans-Canada Highway Whycocomagh, NS B0E 3M0 Canada
About this event
The Mawita'mk Society and the Community Sector Council have partnered to bring the KAIROS Blanket Exercise to We'koqma'q First Nation as part of our shared and ongoing commitment to reconciliation, beginning with the unlearning and learning about Canada's shared history. This event is one of a variety of events in the community to celebrate the first National Day for Truth and Reconciliation. Together, Elders Vanessa Marshall, Heidi Marshall, and Karen Bernard will facilitate this powerful and interactive session. Attendance is free, however participants must pre-register. Space is limited to ensure COVID safety of participants.
Time: 1:00 – 4:30 pm
Cost to attend: FREE but must be pre-registered
Location: 9203 Trans Canada Highway 105
What is the Blanket Exercise?
In 1996, the Aboriginal Rights Coalition worked with Indigenous elders and teachers to develop an interactive way of learning the history most Canadians are never taught. The Blanket Exercise was the result; it has since been offered thousands of times across the land we know as Canada. The Blanket Exercise is based on using Indigenous methodologies and the goal is to build understanding about our shared history as Indigenous and non-Indigenous peoples in Canada by walking through pre-contact, treaty-making, colonization and resistance. Everyone is actively involved as they step onto blankets that represent the land, and into the role of First Nations, Inuit and later Métis peoples. By engaging on an emotional and intellectual level, the Blanket Exercise effectively educates and increases empathy. Immediately following the Blanket Exercise is a talking circle hosted by community Elders and the facilitators of the Exercise.
COVID Safety and Protocol
Though restrictions will be lifting over the next short while, the organizing committee is maintaining a high degree of caution around COVID to protect the safety of all participants including Elders. We ask that participants only register and attend if they are double vaccinated. Participants will be required to wear a mask throughout the exercise, with the exception of those with health issues preventing them from wearing one for extended periods of time. We will have contact tracing on-site, as well as hand sanitizer, and we'll maintain 6' distancing throughout the event.
For more information, please contact Rose Sylliboy at 902-623-1447 or rosie@mawitamk.org or Nicole Cammaert at (902) 549-0309 or ncammaert@csc-ns.ca
About the organizer
Impact Organizations of Nova Scotia was founded in December 2012 (as The Community Sector Council of Nova Scotia) to act as voice for the nonprofit and voluntary sector, and to help build skills and capacity to help organizations be as effective as possible in their work. 
A core part of our work is to provide capacity building opportunities to help organizations better achieve their mission through access to high quality training, resources, and skill development. The root of our capacity building efforts is the vision of the Community Impact Sector equipped to affect positive change and address systemic inequities. Our theory is that the sector will be most impactful when organizations develop the capacity and build skills to nurture healthy workplaces, cultivate innovation, and operate sustainably.