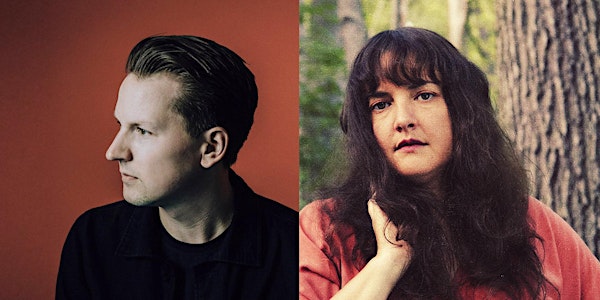 Ken Yates + Abigail Lapell
Ages 19+
Mills Hardware Presents
Ken Yates & Abigail Lapell with guest Janny Berkel — Live at Mills Hardware!
When and where
Location
Mills Hardware 95 King Street East Hamilton, ON L8N1A9 Canada
Performers
Headliners
More Performers
About this event
RESCHEDULED DATE. ALL EXISTING TICKETS WILL BE HONOURED FOR THE NEW DATE
"I used to go searching for the darkness," Ken Yates says. "With this record, the darkness found me first. This is me finding my way out of it." Channeling pain into beauty, Ken Yates' fourth album is a breathtaking triumph of the human spirit. The cool-hued Cerulean captures the artist's intimate reckoning as he grieved his dying mother, giving listeners a vivid window into the rollercoaster of intense thoughts and emotions that accompany such a personal, yet universal experience. The result is a transcendent record that surges with tightly held energy and intimate moments. The listener hears the artist growing in real time, moving towards a space of acceptance and peace as he himself moved to the country, began therapy, and wrote the songs he needed to hear. Cerulean may be born from grief, but it is not musically grieving: its surefooted and softly radiant arrangements shine with the quiet hope of a soul put through the wringer. "This is the first time that I've made a record where I feel like the songs were going to be written whether I wanted to release an album or not," Yates explains. "I was writing because I needed to. I never would have described songwriting as a cathartic process in the past; it was just something I liked to do." With three albums under his belt, the Ontario-born songwriter spent the past decade establishing himself as a talented folk artist with a penchant for thoughtful lyrics and evocative melodies. He won two Canadian Folk Music Awards in 2017, and supported Passenger on both the European and North American legs of his recent tour. Nonetheless, Cerulean feels like a hard reset on Yates' art and artistry. Reuniting with producer Jim Bryson, the album firmly steps into indie folk and alternative territories – he cites Big Thief, Andy Shauf, and The War On Drugs as a few of his inspirations. Thematically, this is Yates at his most honest and raw. A mature recognition of life's imperfection proves the lifeblood of Cerulean, and every time Yates seems to be on the verge of sinking, he swims – held afloat not only by his own inner strength, but also by his community. Cerulean is a group effort, with features from singer/songwriter contemporaries including Kathleen Edwards, Stephanie Lambring, Katie Pruitt, and more.
Instagram | Facebook | Twitter | Spotify | Apple Music
•
Call it prairie noir, or Canadiana desert rock: Abigail Lapell sings haunting, gorgeous modern folk songs, mapping epic natural landscapes and deeply intimate, personal territory. Her albums have won two Canadian Folk Music Awards—English Songwriter of the Year (2020) and Contemporary Album of the Year (2017)—reaching #1 on Canadian folk radio and over 14 million Spotify streams. Lapell tours widely across Canada, the U.S., and Europe, performing on vocals, piano, harmonica, and finger-style guitar. Her upcoming album, Stolen Time, is out April 22, 2022 on Outside Music.
Instagram | Facebook | Twitter | Spotify | Apple Music
•
"I wrote the album in a tiny apartment, at a time when everything felt big and overwhelming," says poet and songwriter Jenny Berkel about her new album, These Are the Sounds Left from Leaving, out May 13 on Outside Music. She was living in a brownstone walk-up full of radiant light and the ever-present soundscape of a leaky bath faucet. It was a sudden move at the time—a spontaneous departure from touring, bustling city life, being many things to many people—that landed Jenny in a space of self-imposed stillness. "The songs themselves are a study of proximity, bringing big fears into small spaces," says Jenny, reflecting on the album. "They're intimate examinations of a world that often overwhelms." Each song is set in the micro-world of a keen feeling observer, trying to parse a mindful moment in a setting where it feels impossible to drop a truth anchor—a post-Trump, heavily gaslit world where perceptions of reality remain distorted. The album features contributions from critically acclaimed folk duo Kacy & Clayton, and string arrangements by Colin Nealis (Andy Shauf)—and for the first time, Jenny took on a production role, co-producing alongside Dan Edmonds and Ryan Boldt (The Deep Dark Woods). Recorded live off the floor at the Sugar Shack with engineer Simon Larochette, the album sparkles with its intended intricacies. Musically, it feels both close and expansive. Each song unfolds like a widening web of poetic associations, narrated by nostalgic piano, pondering strings, glittering guitars—and Jenny's hauntingly immersive vocals. At times, songs end with an unravelling, the music splintering apart into disintegration like a lingering open question. Warm and dark, soft with stabs of madness, These Are the Sounds Left from Leaving is a cohesive collection of spare songs that bloom lushly with detail. 
Instagram | Facebook | Spotify | Apple Music
••
General Admission standing 19+ event. Mobility accommodations available upon request. Valid government issued photo ID is required in order to enter. Artists and schedule subject to change. Event subject to change in support of evolving public health protocols.