Kids Learning Code: Summer Digital Design Camp - Toronto
Description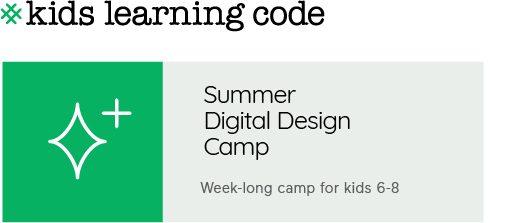 ---


This week, campers will use their creativity and design skills to give companies a branding & identity make-over. After receiving their company profiles, campers will work in teams to brainstorm company values and mission statements, and learn about branding strategies. They will create moodboards, decide on a style guide, and design logos and business cards.
After learning about interior design principles, and getting some inspiration from other companies, campers will also design their company's beautiful workspace. Part way through the week, campers will venture to a nearby startup company, as well, on a behind-the-scenes field trip. We need to do our research, right?
Next, campers will create an online presence for their companies, through coding a website from scratch. Once they've tested and published their sites, you will have the opportunity to see their amazing designs in the end-of-session demos.
Who is this for?
This camp is for kids ages 6-8. Our camps are designed to give learning experiences that are fun, engaging, empowering and inspirational. Through hands-on, collaborative, project-based learning, kids end each day having built something. This camp experience is designed to help kids see technology in a whole new light – as a medium for self-expression, and as a means for changing the world.
Prerequisites:
None! Our camps are designed for absolute beginners!

What's Included: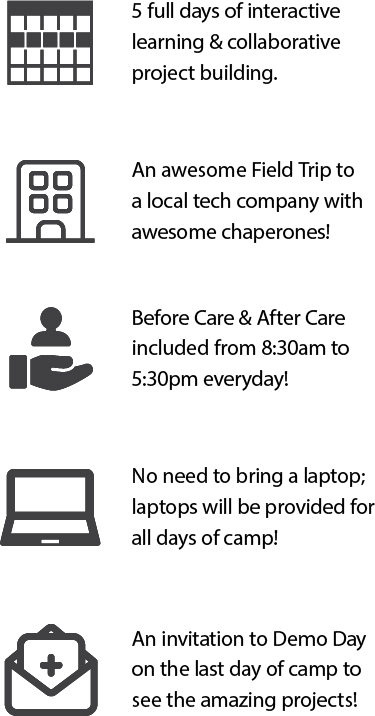 Requirements:

Hey you!
Have you joined the Canada Learning Code mailing list? If not,
join here
.
Questions? Email us at
info@canadalearningcode.ca
You can also find us here:









Hope to see you soon!
If for some reason you can't make it, check out our REFUND POLICY.