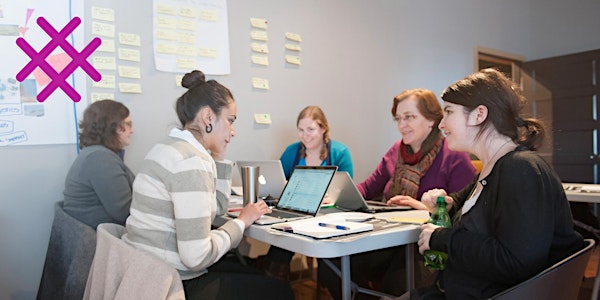 Ladies Learning Code: HTML & CSS for Beginners: Learn to Build a Multi Page Website From Scratch - Toronto
When and where
Location
HackerYou 485 Queen Street West Third Floor Toronto, ON M5V 2A9 Canada
Description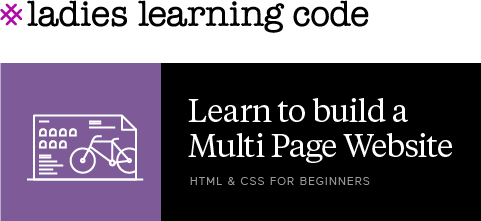 ---
If you are looking to get your feet wet when it comes to programming, then this is the workshop for you. HTML and CSS are the backbone of all websites, and knowledge of them is a necessity if you are interested in things like web development, creating marketing emails, or even blogging! The web without HTML and CSS would be would be a world without colourful, pretty websites, not to mention the web applications we all use daily. It's easy to learn, and was designed so that everyone - even non-programmers - can do it. No fancy programs are needed, just Notepad and a web browser!
The Ladies Learning Code Introduction to HTML & CSS workshop is designed to be a hands-on experience. During the session, you'll build something like this and learn the following:
- Basic techniques and concepts that are translatable to other programming languages
- The building blocks of how HTML and CSS work together to create richer online experiences
- How to create a rich website with images, video, and a CSS-defined layout
- How to create a beautiful multi-page website
- What resources are available if you'd like to continue learning at home (and we think you will)
Workshop Dates:

This workshop will be run over the course of two evenings: Wednesday, March 21st from 6:00pm - 9:00pm and Wednesday, March 28th from 6:00pm - 9:00pm!
Who is this for?
Our Ladies Learning Code workshops offer female-identified and male-identified, trans, and non-binary adults hands-on, project-based learning experiences that are designed to give beginners the skills and confidence they need to become digital creators.
Prerequisites:
None. This workshop is designed for absolute beginners.
About our Workshop Partner:
Booking.com, one of the largest travel e-commerce companies in the world, recently found that while many women working in tech find the industry very appealing, almost half (42%) think gender bias is worse than they expected. The tech industry may be male-dominated, but Booking.com is providing women around the world with the tools they need to succeed. From tech scholarships, awards and mentorship programs, to coding classes here in Toronto.
Contest Alert:
Booking.com is giving away a $500 Booking.com travel credit* and professional mentoring session with a female tech leader at Booking.com to one lucky attendee of this two-part workshop! This travel credit can be used at over 1.5 million properties available on Booking.com in over 229 countries and territories worldwide—including unique accommodations like boat houses, yurts, igloos and tree houses.
To enter the contest: Along with attending this two-part workshop in full, Booking.com wants you to tweet using the hashtag #BookingFEMpowers about a woman in your life that inspires you, for a chance at winning the travel credit and mentor session prize.
The winner will be announced at the beginning of the final workshop session on March 28.
For Full Content Details, click here!
What's Included: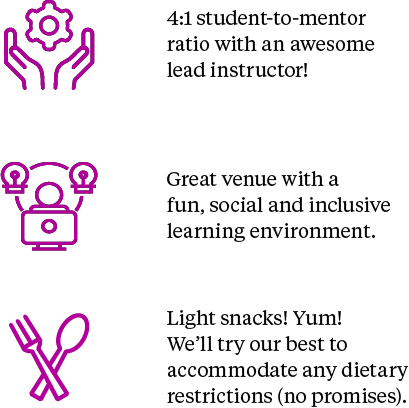 Requirements: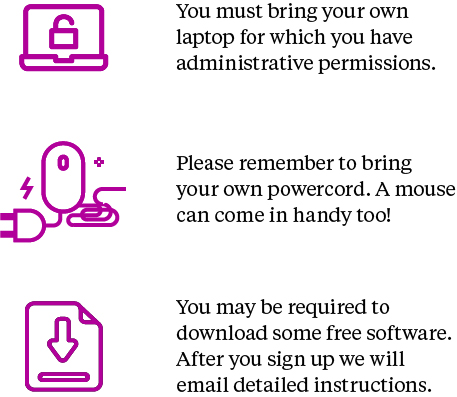 Note: If you do not have a laptop to use during the duration of the workshop, we have a limited quantity that we can loan out. The option to borrow a laptop will be included in your order form when registering.
Hey you!
Have you joined the Canada Learning Code mailing list? If not,
join here
.
Questions? Email us at info@canadalearningcode.ca
You can also find us here:







Hope to see you soon!
If for some reason you can't make it, check out our REFUND POLICY.