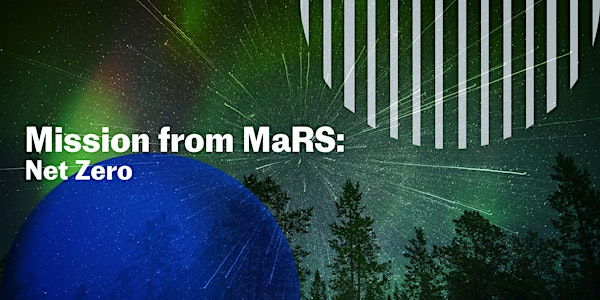 Launching Mission from MaRS: Net Zero - Public Procurement
The next phase of the Mission from MaRS program seeks to remove the barriers of adopting innovative climate change solutions.
By MaRS Discovery District
Date and time
Thursday, December 8, 2022 · 8 - 9:30am PST
About this event
Humanity is racing towards an irreversible climate tragedy, but there is good news: many of the solutions we need already exist — and have been developed right here in Canada.
Mission from MaRS is an ambitious technology adoption program addressing the climate crisis. Building on the successes of the Climate Impact Challenge, Mission from MaRS: Net Zero is a new series of initiatives helping ventures overcome the obstacles of scaling the adoption of their technologies.
As the largest purchasers of goods and services, governments at every level have significant influence on innovation adoption. The first Mission on public procurement will focus on strategies to remove barriers to public procurement, help ventures better navigate the process and successfully sell to governments.
Join us Thursday, December 8 as we reveal the Climate Champions selected for the public procurement-focused mission along with key stakeholders that will enable their success.
DETAILS
December 8, 2022
11:00 a.m.–12:30 p.m.
Zoom broadcast:
https://marsdd.zoom.us/j/99135731124?pwd=ZWFobTJKTE8xWmZydGgzT09pbnpwUT09
Passcode: 170862
AGENDA
11:00–11:05 a.m.: Introduction and opening remarks from MaRS program lead Tyler Hamilton
11:05–11:30 a.m.: Climate Champions presentations
11:30–11:45 a.m.: Mission from MaRS: Net Zero program announcement
11:45 a.m.–12:25 p.m.: Fireside chat with procurement leaders
12:25–12:30 p.m.: Closing remarks
WHO SHOULD ATTEND
Climate tech startups
Corporate partners
General public
Investors
Non-profits
Policymakers
About the organizer
MaRS Discovery District (@MaRSDD) is North America's largest urban innovation hub. A registered non-profit, MaRS supports high-growth startups and scale-ups tackling key issues in the health, cleantech, fintech and other sectors. In addition, MaRS convenes all members of the tech ecosystem to drive breakthrough discoveries, grow the economy and make an impact by solving real problems for real people — in Canada and around the world.