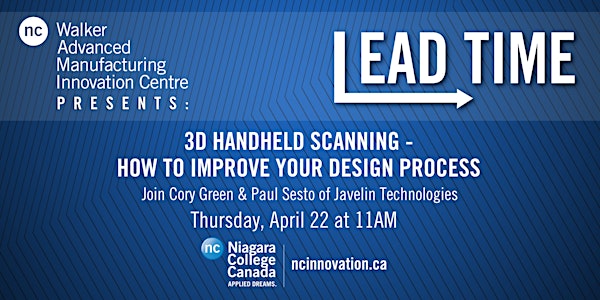 LEAD TIME: 3D Handheld Scanning - How to Improve your Design Process
The Walker Advanced Manufacturing Innovation Centre presents LEAD TIME: 3D Handheld Scanning - How to Improve your Design Process
About this event
These days, we are working harder in the midst of continued uncertain times. Niagara College's Walker Advanced Manufacturing Innovation Centre is introducing a new educational webinar series - LEAD TIME to provide information on how you can introduce Industry 4.0 technologies to help your company work smarter, not harder.
3D Scanning – the whys & hows SME's are bringing affordable handheld scanners in-house to improve their design & manufacturing process.
Learn why more small & medium design, engineering & manufacturing companies are bringing handheld 3D scanners in-house as a new tool to improve their design & manufacturing process. Learn how to choose the right scanner for your work whether it be fine detail work such as antique jewelry to capturing the vehicle dashboard, an aircraft interior, a front end loader or a theatre auditorium. See a demonstration of 3D scanning and equally important how to handle your scanned data to get the most out of it by bringing it into 3D CAD software for a start to finish solution.
Presented by: Cory Green, 3D Scanning Product Manager, Javelin Technologies, and Paul Sesto, National Education Sales Manager - Additive, Javelin Technologies.
Who Should Attend?
Engineering managers, designers, product engineers, manufacturing engineers, and anyone interested in learning more about how you can improve your design and manufacturing processes.
Join us on April 22nd at 11 a.m.
RESERVE YOUR SPOT TODAY!