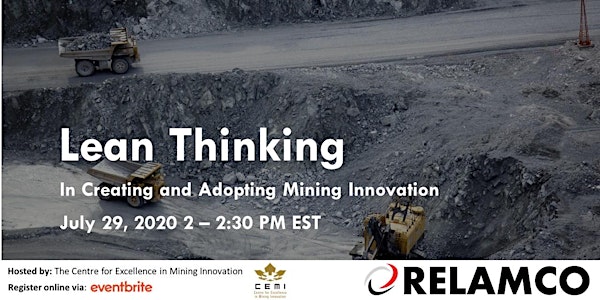 Lean Thinking in Creating and Adopting Mining Innovation
This webinar will explore how lessons learned from Lean Manufacturing can be applied to the mining sector.
About this event
About this Event
In this webinar, RELAMCO will share some of the key challenges faced in the mining industry and how the application of Lean can assist the industry to become more streamlined, flexible, and efficient.
Acerca de este evento
En este webinar, RELAMCO compartirá algunos de los desafíos claves a los que se enfrenta la industria minera y cómo la aplicación de Lean puede ayudar a la industria a ser más ágil, flexible y eficiente.
The Webinar Agenda: (20 minutes presentation)
Problems faced by Innovation companies
Problems faced by Mining companies
Overview of Lean Thinking
Lean in the Mining Industry
Adopting Innovation
Presented by: Michael Espinoza
Questions and Answers: (10 minutes)
Questions and answers available in English or Spanish
Preguntas y respuestas disponibles en Inglés o Español
This webinar will explore how lessons learned from Lean Manufacturing can be applied to the mining sector, helping it identify the best possible innovation, by contributing to the value creation process and optimizing improvements.
Este webinar explorará cómo las lecciones aprendidas de Lean Manufacturing (Manufactura Lean)se pueden aplicar al sector minero, ayudándolo a identificar la mejor innovación posible, contribuyendo al proceso de creación de valor y optimizando las mejoras.
Who should attend:
Anyone who is a member of the mining industry, who wants to harness innovation and create the conditions for improvements.
The session will appeal to:
Mine Managers, Project Managers, Engineers, Operations and Office Managers, Supervisors, Operational Excellence Specialists, Individuals Responsible for Training and Development.

About RELAMCO
RELAMCO is an engineering firm and a leader in providing Lean Six Sigma, Lean, Change Management, and Leadership Development training. RELAMCO has built an excellent reputation for providing customers with effective Operational Excellence training, coaching, and consulting solutions designed to increase operational productivity .