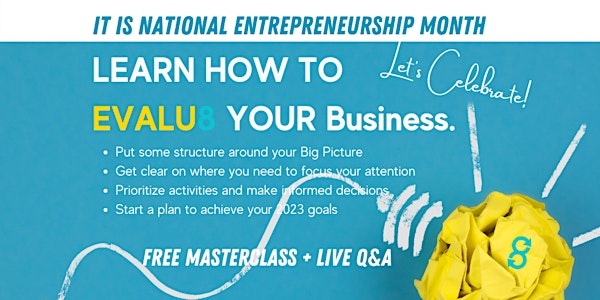 Learn how to EVALU8 your business.
FREE TRAINING - Evalu8 your business. Get clear on the opportunities, focus in on what needs attention and start a plan to reach your goals.
About this event
Calling all Entrepreneurs! And anyone that supports them.
This training is for any entrepreneur that works IN their business and is ready to make some changes.
Hi Everyone! I'm Sara.
As a Business Strategist, Coach and former Business Broker, one of the main challenges I see for small business owners who work IN the business, is that it's hard to always see the big picture and work ON it. Much like reading a label on a bottle from inside the jar.
I was in that spot not that long ago , in my own startup of 5 years. This is a discussion I wish someone had shared with me much earlier. I wouldn't have stumbled quite so much. Lessons learned. Big Picture thinking is so important to keeping us 'entrepreneurs' Dreaming Big and being prepared for whatever is next.
So, in celebration of National Entrepreneurship Month, I'm going LIVE on Tuesdays (3pm AST, 2pm EST,11am Pacific) as the first of the annual event, which is perfectly timed for planning the New Year.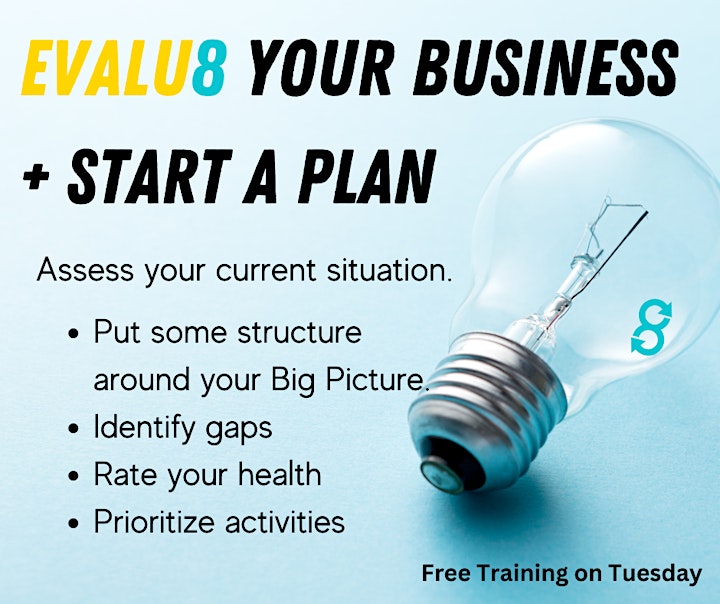 I will share my framework on evaluating businesses and to start some conversations from a different perspective. These are the exact questions I use to evaluate businesses for growth or exit. You can follow the same process process. It's not going to solve any big issues, but it will get you looking ahead and possibly put you finger on what you may missed.
This is a check in. Following the framework the self-assessment will have you take stock of your entire business. Get a handle on your Big Picture in a 52-point checklist that should take you about 15-30 minutes. Rate your health.
Be Honest. What's going well? What needs some attention? What needs to happen to get where you want to be? Ignite a new conversation. It's about your REALITY.
Working ON your business. Learning how to EVALU8 your business, you will:
1. Put some structure around your Big Picture
2. Have some clarity on where you need to focus your attention
3. Have prioritized activities planned with confidence in your 2023 goals.
What's next? Talk about it.
Test your own logic, share success and find the support you need for the right issue.
I highly suggest you Save and Do it again every 6-12 months. Compare.
Please SHARE with other small business owners you think might benefit from this conversation.
This is just the tip of the iceberg. If you are interested in going deeper and pulling this all together together in on spot (CEO Dashboard) the Evalu8 training and coaching programs do just that.
Participants reported that they felt empowered and in control of their business on a whole new level:
"The program was just what I had hoped. It forced me to peek into corners, ask hard questions and think about things differently. As a result, I have a new way of thinking and a new planning process, which is an excellent way to lead into the new year!" - Lynn Colepaugh, Cyber PR Army