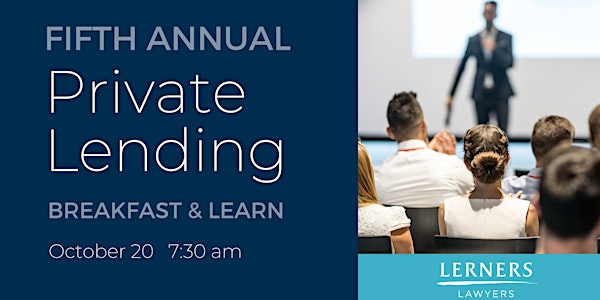 Lerners Private Lending Breakfast and Learn
Join us for the 5th Annual Private Lending Brunch and Learn and hear from industry experts!
Date and time
Thu, Oct 20, 2022 7:30 AM - 10:00 AM EDT
Location
The London Club 177 Queens Avenue London, ON N6A 1J1 Canada
About this event
Lerners Business Lawyers are hosting an in-person private lending seminar on October 20th, where they will provide insights for private lenders on various legal and insurance topics. Whether you are new to private lending or a seasoned veteran, please join us as you will gain valuable knowledge to help you navigate building your private lending portfolio.
Our topics include:
Your Enforcement Options for Commercial Loans presented by Spencer Jones.
Spencer explains the various enforcement methods available to commercial lenders and what to consider before embarking on enforcement measures from a legal and practical standpoint.
Mortgage Markets Explained: Important things to Consider presented by Clark Armstrong.
Clark provides insight on the issues that arise when a private lender is in second or third position on a mortgage. Topics include:
Title insurance endorsements
The mortgage enforcement process
Contractual obligations (privity) between involved parties
Securing Your Security – Issues and Considerations for Private Lenders presented by Nick Cummings.
Nick shares the specifics of the Personal Property Security Act
(PPSA) and how it applies and enhances secured lending transactions. Topics include:
Assessing how to use the PPSA to protect security interests,
Providing an overview of common PPSA issues, and
Reviewing how lenders can preserve their priority positions on PPSA lending transactions.
Introduction to Commercial Title Insurance presented by Stewart Title.
Advisors from Stewart Title provide an overview on title insurance, including:
Commercial title insurance coverage, protection, exclusions and other key considerations
If you want the recording of the event, please sign up for the virtual recording only.
We look forward to seeing you on October 20th!