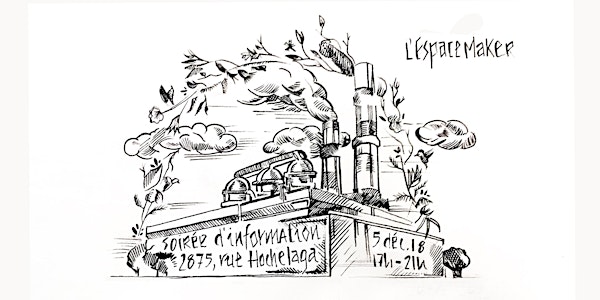 ▶▶▶ LESPACEMAKER : Soirée d'information ◀◀◀
When and where
Location
LESPACEMAKER 2875 Rue Hochelaga Montréal, QC H2K 1K7 Canada
Description
Vous avez entendu parler de ce projet d'atelier de fabrication communautaire dans Centre-Sud et souhaitez en apprendre davantage sur la nature, les objectifs et la culture du projet? Et bien, nous vous invitons à une soirée d'information où nous vous expliquerons tout ce en quoi consiste LESPACEMAKER : ses aspirations, les ateliers offerts, le mode opérationnel la communauté et les différentes manières de s'y joindre. Par la même occasion, vous pourrez visiter le lieu et déterminer par quel moyen vous pourrez vous impliquer d'ici l'ouverture officielle.
Petites bouchées et apéro seront servis. Bar payant (mode levée de fonds).
Au plaisir de vous rencontrer très prochainement.

17:00 Visite Libre / Apéro
18:30 Presentation
20:00 Questions et Discussion

La mission de LESPACEMAKER est d'offrir un espace collaboratif de fabrication, d'apprentissage, d'exploration, de création, d'exposition et de partage du savoir. Il souhaite offrir un espace social, mettre à disposition des outils spécialisés et réunir des expertises variées.
LESPACEMAKER proposera à ses membres des ateliers de bois, métal, mécanique, sérigraphie, vélo, une forge et bien plus encore selon la volonté et l'engagement de ceux-ci. Des cours d'initiation, de perfectionnement ou d'excellence seront offerts sous base régulière pour l'ensemble de ces ateliers. Certains espaces privés seront réservés à l'utilisation de membres occupants pour l'aménagement de leurs activités professionnelles ou de projets spéciaux.

---
You've heard about this community maker workshop project in the Centre-Sud area and want to find out more about LESPACEMAKER's features, objectives and culture? Come to our information session, where we will explain everything about the project: its intentions, the workshops we'll be offering, how it works and all the different ways you can participate. At the same time, you can visit the site and tell us how you want to get involved before the official opening.
Snacks and drinks will be served. Paying bar (Fundraising mode).
We look forward to meeting you soon.



17:00 Open House / Apero




18:30 Presentation




20:00 Questions & Discussion



LESPACEMAKER's mission is to offer a collaborative space for making, learning, exploring, creating, showcasing and sharing knowledge. It aims to provide a social space and provide access to specialized tools and varied expertise.
LESPACEMAKER will offer its members workshops in wood, metal, silkscreen printing, bike mechanics, smithing and much more, depending on the members' motivation and commitment. Initiation, refresher and master classes will be offered on a regular basis for all of these workshops. Certain private spaces will be reserved for the use of resident members for their professional activities or special projects.