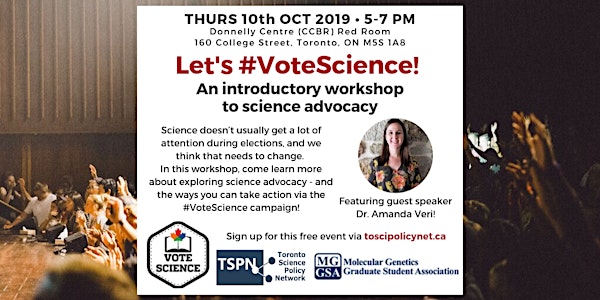 Let's #VoteScience - An Introductory Workshop to Science Advocacy
Location
Terrence Donnelly Centre for Cellular & Biomolecular Research
160 College Street
Red Room
Toronto, ON M5S 3E1
Canada
Join us at our upcoming workshop focused on exploring science advocacy and ways that you can take action via the #VoteScience campaign!
About this event
All Canadians benefit from our country's continued success in scientific discovery and progress. Despite this, science doesn't usually get a lot of attention during elections, and this needs to change. That's why on Thursday, October 10th 2019, the Molecular Genetics' Graduate Student Association and the Toronto Science Policy Network are co-hosting an introductory workshop to science advocacy, and the ways you can take action via the national non-partisan #VoteScience campaign.
This hands-on #VoteScience workshop will feature:
Guest speaker Dr. Amanda Veri (Research Associate, University of Toronto) who will walk attendees through getting started in science advocacy, and share practical tips in a talk titled: "Exploring new waters: how to dive into science advocacy."
An opportunity for action, where we will guide attendees through either taking a #VoteScience selfie, writing postcards to candidates in their riding, or crafting op-eds (using a handy letter to the editor e-tool!) on why science needs to be an election issue.
We encourage workshop attendees to bring along their laptops if possible! By registering and/or attending this event you agree to follow and observe our code of conduct (below).
We hope to see you there!
--
Dr. Amanda Veri:
Amanda Veri is a microbiologist and a recent PhD graduate who works as a Research Associate in Dr. Leah Cowen's lab at the University of Toronto. In this role, she helps support research programs studying the mechanisms regulating fungal virulence. In her free time she enjoys engaging in science communication and outreach, sharing her love of microbiology by hosting workshops on how to crochet microbes and giving lectures on how microbes cause zombies. Only days after the Ontario PC party came into power, they announced the firing of the Ontario Chief Scientist, Dr. Molly Shoichet. Disheartened by the news, she took part in an Evidence for Democracy campaign and contacted her local MPP, Stephen Lecce, to voice her concern. With the help of her fungal cells and Twitter, she was able to arrange a fun and educational lab visit with her MPP to advocate for science in Ontario.
FAQs:
What are my transportation/parking options for getting to and from the event?
The closest subway stop is Queen's Park Station, which is a three minute walk from the Medical Sciences Building.
What accessibility accommodations are available?
Our event will feature live captioning, and live streaming. It will be available on the TSPN YouTube channel following the event.
The main entrance to the Medical Science Building are the large doors reachable via outdoor stairs - this entrance is clearly visible from the King's Circle. Both the main and back entrance feature a wheelchair accessible ramp, handrails on the stairwell and ramp, and an accessible entrance (i.e. power double doors with large push plates). There are washrooms available on every floor of the building.
Please contact us with requests, and we will work to ensure your experience is a comfortable one.
Code of Conduct
We are dedicated to providing a harassment-free event experience for everyone, regardless of gender, gender identity and expression, age, sexual orientation, disability, physical appearance, body size, race, ethnicity, religion (or lack thereof), or technology choices. We do not tolerate harassment of event participants in any form. Sexual language and imagery is not appropriate for any activities, including talks, workshops, parties, Twitter, and other online media. Event participants violating these rules may be sanctioned or asked to leave the event at the discretion of the conference organisers.
This code of conduct was adapted from the confcodeofconduct.com
Want to hear about more science policy and advocacy events happening at UofT? Subscribe to TSPN's monthly newsletter for upcoming events, programs and opportunities relating to science and policy.