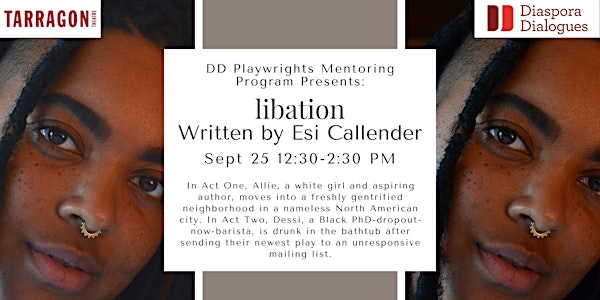 libation- Public Play Reading
Join us for the live reading of libation, written by Esi Callender as part of the DD Playwrights Mentoring Program.
Refund Policy
Contact the organizer to request a refund.
About this event
Join us for the live reading of libation, written by Esi Callender as part of the DD Playwrights Mentoring Program.
In Act One, Allie, a white girl and aspiring author, moves into a freshly gentrified neighborhood in a nameless North American city. Dessi, a Black PhD-dropout-now-barista, is drunk in the bathtub after sending their newest play to an unresponsive mailing list.
About the Playwright
Esi Callender was raised in a small town on the west coast of Canada (Snuneymuxw territory). They later moved to Montreal (also known as Tio'tia:ke, the territory of the Kanien'kehá:ka Nation) to study theater and communications. There, they worked in several student-run arts organizations, including the VAV Gallery and FASA, and independent artist collectives, such as Boulouki Theatre and Afro Drag. esi co-founded Sort Of Productions, working with fellow Black, racialized, queer, and trans artists, and building practices around their collective values, desires, and needs. Through this collective they've produced three new works, marking a milestone in 2020 with the production of award-winning Turkish playwright Deniz Basar's Wine & Halva. Esi was also a playwright in Black Theater Workshop's 2021 Artist Mentorship program. They are excited by experimental and postdramatic theater, which for them has the potential to go beyond representation in challenging oppression by offering alternative ways of seeing. In their writing, esi centers Black queer and trans life in the diaspora(s), Africa and the Carribean. Currently, esi is pursuing an interdisciplinary masters in African studies, which has them moving across continents and exploring Black identity in varying contexts along the way.
Presented By
Diaspora Dialogues (DD) supports emerging writers to turn their craft into a career through mentorship, professional development and opportunities to publish and present their work. Our mentoring programs are the most successful in the country for alumni getting published. More than 750 writers/artists have participated as mentors or mentees, emerging playwrights or dramaturges, commissioned artists or panelists, readers or performers. 450+ new literary works have been created through DD programs, 300 events produced and a live audience well in excess of 150,000 Canadians has attended those events. DD also publishes TOK Magazine, an online platform for fiercely honest, freshly original writing and convenes TOK Symposiums, multi-day events for readers and writers which combine author talks and professional development seminars.
During these strange and challenging times, Diaspora Dialogues continues to support those who create stories we turn to for comfort, solace, and strength — our authors. To do that we need your help.
This event is registered by donation, please consider supporting us at this time. Thank you.