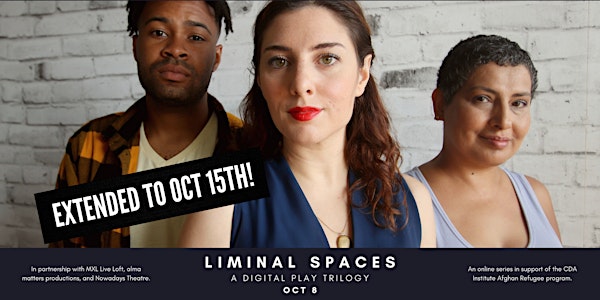 Liminal Spaces: A Digital Play Trilogy (EXTENDED)
An online play series in support of the CDA Institute Afghan Refugee Program.
Refund Policy
Contact the organizer to request a refund.
Eventbrite's fee is nonrefundable.
About this event
alma matters productions, MXL Live Loft and Nowadays Theatre are pleased to announce the online premiere of Liminal Spaces: A Digital Play Trilogy. Featuring three new one act plays, these works will be available to watch until Friday, October 15th at midnight EST.
This event is in support of the CDA Institute Afghan Refugee Program. 20% of all ticket sales will be donated to this organization, which helps to facilitate the arrival of Afghan Refugees into Canada. Our tickets operate on a Pay-What-You-Can System with a $15 minimum. Please consider donating generously.
ABOUT THE PLAYS:
A liminal space is the time between the 'what was' and the 'next.' It is a place of transition, a season of waiting, and not knowing. These pieces explore the fringes of life and death, reality and fiction, and the boundaries of consent. Challenging these evolving structures, these plays give us pause to reflect and question: "Where is the line?"
DISCORd
By: Jax Smith & Helene Taylor
Featuring: Sarah Marchand, Anand Rajaram and Mahsa Ershadifar
Director: Jonathan Shaboo
A prodigy pianist becomes unhinged when she interviews with a sexually predatory music director and is seemingly given her dream at the expense of her deceased mother's legacy.
MOTHER
By: Mohammad Yaghoubi
Featuring: Aida Keykhaii and Maryam Mahdavi
Director: Mohammad Yaghoubi
Assistant Director: Mahsa Ershadifar
'Mother' tells a story of loss and grief through the poignant lens of the maternal bond. Playwright Mohammad Yaghoubi wrote this for his wife, Aida Keykhaii, as a means of catharsis; the episode was inspired by watching her suffer this past year as she battled with cancer. This piece is his response to the pain his family went through. During the era of Covid, when so many said goodbye to their families from afar, 'Mother' is a timely story emphasizing the need for connection with loved ones in the face of loss.
MPDG
By: Justin Otto
Featuring: Nathan Taylor and Annick Sheedy McLellan
Directors: Taras Lavren and Justin Otto
Nathan is a lonely playwright suffering from a case of bad reviews and writer's block. Manic Pixie Dream Girl is the stock character assigned by the narrative powers that be to help Nathan reclaim his mojo. When they meet, sparks don't just fly as narrative dimensions collide and they embark on a quest to discover who the audience wants them to be, who they want to be and whether there can ever really be any truth in love or fiction.
Original Music by Raf Finn. Promotional Photography by Graham Isador.
Project Conception by Annick Sheedy McLellan, Jonathan Shaboo, Sarah Marchand and Taras Lavren.
Follow us at @almattersprod | @mxl.liveloft | @nowadays_theater