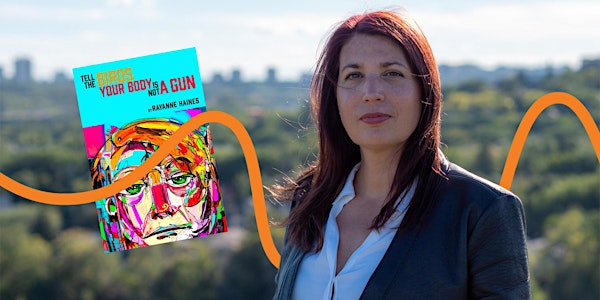 LitFest Presents: Masterclass with Rayanne Haines
In this 90-minute master class, we talk about being vulnerable in our discomfort and how to dig deeper into sharing truth in our writing.
When and where
Location
Latitude 53 10242 106 Street Edmonton, AB T5J0J2 Canada
About this event
Being vulnerable in our writing is an uncomfortable process. Choosing to write about difficult experiences for publication involves telling the deep truth of pain and suffering, while also acknowledging the work as a piece of art. When you make this decision, you must first answer the most difficult question— every time you approach the task of writing — What is the truth? Being vulnerable on the page creates discomfort, and often, a resistance to engaging with the deeper work you know you need to do. In this 90-minute master class, we first talk about being vulnerable in our discomfort and then how to dig deeper into sharing truth in our writing by using our senses, minimalism and instinct, and bridging the universal and personal.
Want to buy the book? Find it here.
We will not be accepting cash on site for ticket sales.
For the health and safety of our community and staff, LitFest will be following City of Edmonton bylaws and Government of Alberta COVID-19 requirements for all in-person events.
Proof of vaccination, documentation of a medical exemption, or proof of a privately-paid negative PCR or rapid test within 72 hours of the event will be required for every person (aged 12+) attending in-person LitFest events.
Attendees (aged 12+) must be fully vaccinated 14 days prior to attending an in-person event. Venue staff will accept electronic or paper records at entry points, which can include paper and electronic records from your clinic or pharmacy showing your name and date of vaccination. Records can also be printed or accessed through the MyHealth Records website or app.
Please be prepared to show proof of vaccination each time you come to an in-person LitFest event. No health record information will be scanned, stored, or shared. Thank you for your cooperation!
Please note: In the event that an in-person gathering is not possible, the event will be moved to an online format. Registrants will receive email notice and information at the earliest possible opportunity should this occur.
All in-person events will now be live streamed for at-home audiences. Please select General Admission: Virtual when registering for any online events.