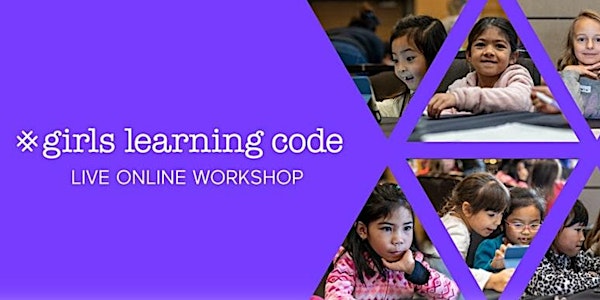 Live Online GLC: Generative Art w/ JavaScript (9-12+Guardian) (2hrs) - CS
Workshops, industry events and hackathons for 9-12 years old but designed to be a space for girls, trans and beyond-binary youth.
By Canada Learning Code | Canada en programmation
Date and time
Tuesday, April 11 · 1:30 - 3:30pm PDT
Refund Policy
Contact the organizer to request a refund.
About this event
Why learn JavaScript? This workshop will focus on teaching the fundamentals of computer programming in a visual context, and highlight how simple mathematical equations can create beautiful and engaging outcomes. (You don't need to be a math wizard - Processing does the calculating for us!) We'll use p5.js, which is a processing 'flavour' that builds upon the JavaScript programming language, and is often used in electronic arts, new media art, and visual design. The application itself allows anyone to code in something called a Sketchbook, where programs can be saved and previewed instantly. Learners will use geometrical shapes and lines to create interactivity with their mouse and keyboard, and use colours to create visually intricate designs!
Who is this for?
Our Girls Learning Code workshops and events offer female-identified, trans, and non-binary youth ages 9-12 + Guardian opportunities to take action on ideas that will shape our future while leveraging the power of technology. Our learning experiences are much more than learning how to code. Our experiences empower teens to learn problem solving skills, how to turn ideas into reality, exposure to what a future in technology could look like, and much more.
Prerequisites:
None! This workshop is designed for beginners.
What's Included:
An awesome lead instructor and industry mentors!
Requirements: 
You must be accompanied by a parent or guardian for the entire duration of the workshop.
You must bring your own laptop for which you have administrative permissions.
Please remember to bring your own power cord. A mouse can come in handy too!
You may be required to download some free software. After you sign up we will email detailed instructions.
We strive to host inclusive, accessible experiences that enable all individuals to engage fully. To request an accommodation or for inquires about accessibility, please contact accessibility@canadalearningcode.ca
Hey you! Have you joined the Canada Learning Code mailing list? It's the best way to stay updated and get information about upcoming learning experiences. Subscribe here.
Questions? Email us at info@canadalearningcode.ca
You can also find us here:
Hope to see you soon!
If you're interested in supporting our mission click here to donate.
About the organizer
We design, deliver and partner on technology education for people in Canada and run programs for Ladies, Kids, Girls, Teens and Teachers.
Nous concevons et mettons en œuvre des programmes et réalisons des partenariats d'enseignement de la technologie pour les femmes, les enfants, les filles, les ados et les enseignants du Canada.